Report asks if electronic messaging in prisons and jails is innovation or exploitation?
January 21, 2016
FOR IMMEDIATE RELEASE: January 21, 2016
Contact:
Bernadette Rabuy
brabuy [at] prisonpolicy.org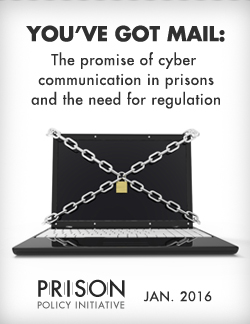 Easthampton, MA — Given the extreme distances that separate incarcerated people from their families, technological innovations that allow more frequent and faster communication between incarcerated people and their families would be a welcome improvement. A new report by the Prison Policy Initiative finds that while many facilities are still stuck in the last century, the growing number of facilities experimenting with electronic messaging are all too often providing incarcerated people and their families a product of questionable value at inflated prices.
The report, You've Got Mail: The promise of cyber communication in prisons and the need for regulation, analyzes the current state of electronic messaging in correctional facilities. The report finds that electronic messaging — which is often referred to as "email for prisoners" — actually has very little in common with the email services available to free-world users. For example:
Some electronic messaging systems are "inbound only." With these systems, free-world users are able to electronically send a message to an incarcerated person, but the incarcerated person must respond with a handwritten letter.
While email is free for those of us in the free-world, private companies charge incarcerated people and their families anywhere from 5¢ to $1.25 per message to communicate electronically.
"Calling the electronic messaging offered to incarcerated people and their families 'email' would be an insult to email," explains Stephen Raher, author of You've Got Mail. "Once again, it seems that the prison phone giants are providing more of the same old exploitation rather than providing true innovation."
The report builds on the Prison Policy Initiative's work uncovering the previously hidden prison and jail phone industry and exposing the harmful trend of video visits replacing traditional in-person jail visits. The report was submitted to the Federal Communications Commission in response to its request for comments on advanced communication services in prisons and jails and provides the FCC with nine recommendations. The report also offers seven other recommendations for legislators, state public utility commissions, and correctional administrators, all with an eye toward transforming electronic messaging from a poorly designed and expensive technology to a fair and reasonable tool for communication.
You've Got Mail: The promise of cyber communication in prisons and the need for regulation is a collaboration between Prison Policy Initiative and pro bono legal analyst Stephen Raher of the organization's Young Professionals Network. Stephen's previous work with the Prison Policy Initiative provided a first-of-its-kind analysis of high-fee release cards.
The report is available at: http://www.prisonpolicy.org/messaging/report.html
-30-