What's wrong with this picture? Elderly people in NY's prisons
by Peter Wagner, September 12, 2014
While New York State's prison population has been dropping overall as a result of number of significant reforms, one group being left quite literally behind is the elderly. From 2000 to 2013, the number of people 50 years of age or older incarcerated in New York State prisons has doubled.
A campaign to reduce the number of elderly and infirm people in New York State prisons is being led by Muhajid Farid, lead organizer of the Release of Aging People in Prison campaign.
As the campaign's website says:
RAPP focuses on this growing population of aging people in prison, many of whom are long-termers convicted of serious crimes. Many of these human beings have transformed their lives and developed skills and abilities they lacked before incarceration. They could be released from prison with no threat to public safety. Yet many are denied release, often for political reasons, and needlessly remain imprisoned into old age. These elders could be released if current mechanisms such as parole and compassionate release were correctly utilized; we also support legislation like the S.A.F.E. Parole Act to reform the parole system and increase the number of releases.
I got to spend some time with Farid at a conference in July, and offered to use our knowledge of the New York State prison system's data to make a graph showing the problem. With the help of PPI summer research associate Sarah Hertel-Fernandez, we plotted the change in New York State's prison population by age from 1996 to the present. What's notable is that New York's much-heralded prison population decline is confined solely to the population of people under 50. The elderly are being left behind.: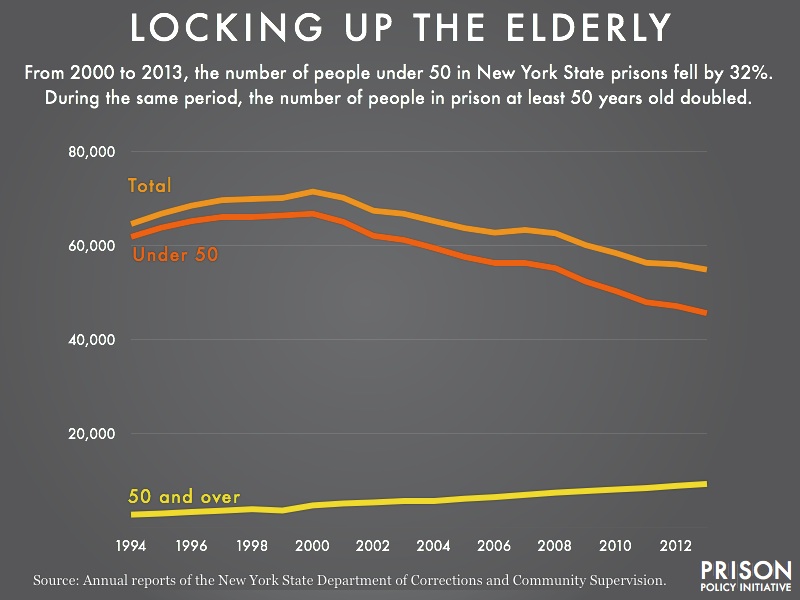 At that same conference Leah Sakala and I had a chance to interview Farid:
If you are in New York City on Sunday afternoon, Farid will be among the speakers at a Brooklyn Museum event Discussion: "What's Age Got to Do with It? Incarcerating Children and the Elderly".
Update September 15, 2014: Added the years 1994 and 1995 to the graph.
Note: We'd like to extend this graph further back in time. If you can help us locate the January 1 population reports from the New York State prison system for the years 1993, and 1991 and prior, please contact us.