Welcome to long time volunteer, Stephen Raher!
Stephen is joining the Prison Policy Initiative as General Counsel.
by Jenny Landon, September 16, 2021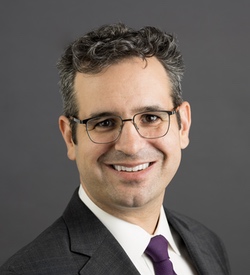 This week we're excited to officially add Stephen Raher to the Prison Policy Initiative staff roster after years of working with him as a volunteer. Stephen is joining as Prison Policy Initiative's general counsel. He worked as a criminal justice reform advocate in Colorado for several years before going to law school. Prior to joining Prison Policy Initiative, Stephen worked as a litigator and bankruptcy lawyer, both in private practice and as an attorney in the federal court system. For many of those years, he was also an active volunteer with Prison Policy Initiative's Young Professionals Network.
Stephen has written several pieces about the sale of goods and services to incarcerated people, including our report The Company Store: A Deeper Look at Prison Commissaries. His advocacy against financial exploitation includes spearheading our campaign to expose the abusive release card industry, and authoring rulemaking comments regarding the financial privacy rights of families of the incarcerated. Stephen has also supported the Prison Policy Initiative's groundbreaking work on telecommunications and technology in correctional facilities, authoring our report on electronic messaging, exploring problems with computer tablets for incarcerated people, and submitting comments to the FCC, among other projects.
Stephen lives and works in Portland, Oregon. He holds a J.D. from Lewis & Clark Law School, and a Master of Public Administration from the University of Colorado. He is admitted to practice law in the state of Oregon and Washington.
Welcome to the team, Stephen!