Executive Director Peter Wagner and our staff are available to speak at your college or to your organization about the negative impact of mass incarceration. Weaving together graphics, maps, history and the law, we can inform and inspire. Past topics have included:
Past talks have included keynote addresses at conferences at Harvard and Brown Universities and technical presentations at a Census Bureau Symposium, and a meeting of the National Research Council at the National Academies.
Contact the office at (413) 527-0845 or for prices and scheduling.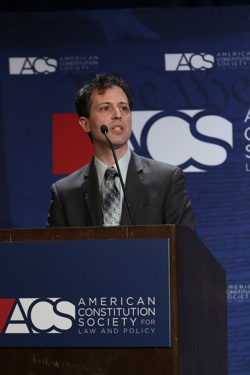 Peter accepting the David Carliner award from the American Constitution Society, June 2014. (Photo: ACS.)
"Peter Wagner spends most of his time crunching numbers, but he knows the power of a good story."
—Drake Bennett, Boston Globe, September 26, 2004
"As the keynote speaker at the history-making 101st NAACP national convention seminar hosted at the Crossroads Correctional Center [Missouri], Peter Wagner provided an insightful, holistic and erudite analysis of the prison branch's sponsored resolutions, urging the association's members to lobby for fundamental change in the way America counts its prisoners and apportions political representation."
—Jon Marc Taylor, Convention Seminar Chair, NAACP Branch #4003
"You set the stage for the rest of the conference with your national perspective on the criminal justice system and the Prison Policy Initiative's strategies to improve policies in this area."
—Betty C. Andrews, President, Iowa-Nebraska NAACP State Area Conference of Branches and Host, Iowa Summit on Justice & Disparities
"No one else understands this issue until they hear your presentation. People in prison towns have so much more representation than they should because of the prisons."
—Jean Auldridge, Virginia C.U.R.E.
"Thank you for coming to Smith College. Your talk was the perfect beginning to our speaker series to educate ourselves and our peers on the issues in the U.S. criminal justice system."
—Olivia Cummings, Students for Social Justice and Institutional Change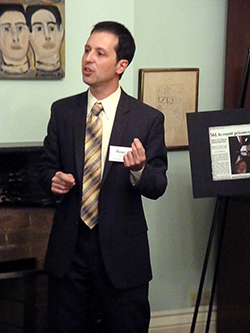 "Peter's presentation combines detailed, ground-level facts with the bigger picture, giving readers an understanding of both the national scope of the problem caused by our bizarre census practices and the practical effects on specific towns and cities."
—Professor Ben Trachtenberg, Brooklyn Law School
"In February of 2006, I drove from Athens, Georgia, to see Peter Wagner speak at the University of North Carolina in Chapel Hill. Peter was one of several speakers at an excellent conference, yet his presentation stood out. Peter couples empirical depth and precision with humor and wit—he's one of the most engaging speakers I've seen, and I'd happily travel to see him speak again."
—Matthew L. Mitchelson, Department of Geography, University of Georgia.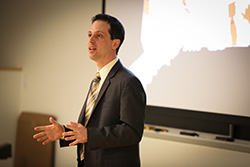 Peter Wagner at Wesleyan University, March 2013
"Peter Wagner and The Prison Policy Initiative's work on correctional gerrymandering continues to shed light on an important area of public policy, nearly ignored by mainstream social science researchers. Through a high volume on online content, media networking, and community engagement, Wagner's organization remains a key player in the fight for democracy and accuracy in electoral reporting."
—Travis Linnemann, Department of Sociology, Kansas State University
"An eye-opening analysis by Prison Policy Initiative's Peter Wagner found seven upstate New York Senate districts that meet minimal population requirements only because prison inmates are included in the count."
—Brent Staples, Why Some Politicians Need Their Prisons to Stay Full The New York Times, Dec 27, 2004
"Wagner operates a website, www.prisonersofthecensus.org, that is a treasure trove of information about the interaction of incarceration and political representation."
—Convictions and Doubts: Retribution, Representation, and the Debate over Felon Disenfranchisement, Pamela S. Karlan, Kenneth and Harle Montgomery Professor of Public Interest Law, Associate Dean for Research and Academics at Stanford Law School.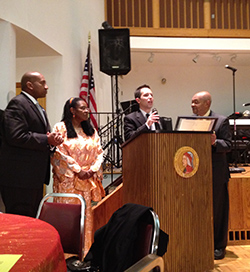 Peter accepting an award presented by Senator Bill Owens from the Center for Church & Prison, November 2011
"Without The Prison Index, I could not have written my second or third book. This clearly organized and comprehensive volume is the best single reference work available to writers and researchers in the field of corrections."
—Jens Soering, author of The Way of the Prisoner, An Expensive Way to Make Bad People Worse: An Essay On Prison Reform from an Insider's Perspective, and The Convict Christ.
"Peter Wagner is a national leader in pressuring the U.S. to fully comply with the core human right of voting in regard to people in prison."
—Charlie Sullivan, CURE