Welcome
The Prison Policy Initiative documents the impact of mass incarceration on individuals, communities, and the national welfare in order to empower the public to improve criminal justice policy.
Featured project: National Incarceration Briefing Series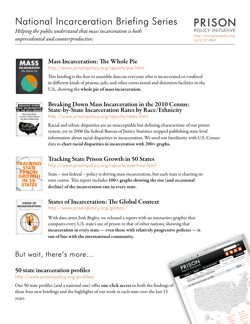 This series includes four innovative reports:
Also, our new 50 state profiles include the state-specific charts and graphs from each report as well as an overview of the Prison Policy Initiative's major work to date in each state.
Our work
National Incarceration Briefing Series
Ending prison gerrymandering
Regulating the prison phone industry
Research Clearinghouse
Sentencing enhancement zones
If our work is new to you, you might want to check out our 2013-2014 annual report.