Welcome
The Prison Policy Initiative challenges over-criminalization and mass incarceration through research, advocacy, and organizing. We show how the United States' excessive and unequal use of punishment and institutional control harms individuals and undermines our communities and national well-being.
Featured project
Screening Out Family Time: The for-profit video visitation industry in prisons and jails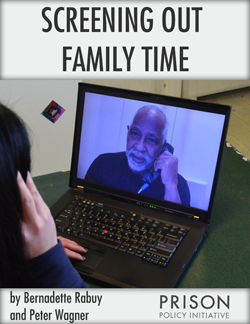 For-profit video visitation has been quietly sweeping the nation's state prisons and county jails. Our research found:
Over 500 facilities are using this technology.
Most county jails use video to replace traditional visits.
Check out our visitation page for the report, press coverage, and updates.
Also, we collaborated with NYC comedians to challenge the industry's offensive claim that video visitation is "just like Skype" with 4 short videos.
Our work
National Incarceration Briefing Series
Ending prison gerrymandering
Regulating the prison phone industry
Research Clearinghouse
Sentencing enhancement zones
If our work is new to you, you might want to check out our 2013-2014 annual report.