Staff & Volunteers
The Prison Policy Initiative's accomplishments are those of a much larger organization. In fact, until November 2009, all of our work was done by our part-time Executive Director and the part-time volunteers he coordinated. Thanks to your support, we've added staff and our capacity to help make social change is growing quickly. Learn more about our current and past staff.
Staff
Peter Wagner, JD, Executive Director. Peter Wagner teaches, lectures, and writes about the negative impact of mass incarceration in the United States. His current focus is on demonstrating — through graphics, legal research, and state-by-state analyses — how the U.S. Census Bureau's practice of counting the nation's mostly urban prisoners as residents of the often remote communities in which they are incarcerated distorts the democratic process. The New York Times editorial board has written 21 editorials supporting his efforts to change the way prisoners are counted, and the Boston Globe identified him as the "leading public critic" of the prisoner miscount. He has presented his research at national and international conferences and meetings, including a Census Bureau Symposium, a meeting of the National Academies, and keynote addresses at Harvard and Brown Universities and the Crossroads Correctional Center in Cameron Missouri. Mr. Wagner's publications include Importing Constituents: Prisoners and Political Clout in New York (2002); The Prison Index: Taking the Pulse of the Crime Control Industry (2003); and Breaking the Census: Redistricting in an Era of Mass Incarceration (2012).
Aleks Kajstura, JD, Legal Director. Aleks began her career with the Prison Policy Initiative in 2003 helping to digitize criminal justice reports, and soon thereafter was editing our research database. After graduating from the Benjamin N. Cardozo School of Law in May 2008, Aleks assumed the position of President of the Prison Policy Initiative Board of Directors. After a clerkship at the Connecticut Superior Court, she joined the Prison Policy Initiative full-time, as our legal director, in November 2009. She helped develop our Prisoners of the Census project, preparing evidence for the Southern Center for Human Rights' Whitaker v. Perdue case and authoring Prison Gerrymandering in Massachusetts: How the Census Bureau prison miscount invites phantom constituents to town meeting. Aleks led our school zone project and was lead author of the report, The Geography of Punishment: How Huge Sentencing Enhancement Zones Harm Communities, Fail to Protect Children, and author of Reaching too far: How Connecticut's large sentencing enhancement zones miss the mark. In her spare time, Aleks coaches for Pioneer Valley Roller Derby and serves as the Chair of the Finance Committee for the Town of Sunderland.
Leah Sakala, Policy Analyst, has been working with the Prison Policy Initiative since 2008. She is the author of Return to Sender: Postcard-only Mail Policies in Jail, which the National Institute of Corrections called "required reading for policy makers and anyone working with individuals in jail custody." She also co-authored Reaching too far, coming up short: How large sentencing enhancement zones miss the mark, Please Deposit All of Your Money: Kickbacks, Rates, and Hidden Fees in the Jail Phone Industry, and Mass Incarceration: The Whole Pie. She is also responsible for much of the organization's communications and development work, and she manages our research database and edits our legal resource database. She graduated magna cum laude from Smith College.
Corey Frost is a law student at the University of North Carolina School of Law. He is conducting pro bono research on correctional standards in order to support the Prison Policy Initiative's work fighting to end letter bans in local jails.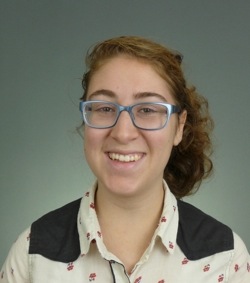 Sadie Gold-Shapiro is a second year student at Smith College and she has been working with the Prison Policy Initiative since February, 2013. She helps out with various projects as a work-study Research Associate two afternoons per week. She curates the Research Clearinghouse, and her recent projects have included cross-checking our annotations of correctional facilities in the 2010 Census and researching CenturyLinks's call termination practices for our Please Deposit All of Your Money: Kickbacks, Rates and Hidden Fees in the Jail Phone Industry report.
Sarah Hertel-Fernandez is a Sophomore at Smith College who helps with research projects on Wednesday afternoons, and will be joining us on a part time basis starting in June.
Yoo Eun Kim is a sophomore at Smith College and helps out as a work-study Research Associate. Among other responsibilities, she is responsible for our legislator outreach list.
Sophia Robohn is a Hampshire College student who will be completing a RRASC Internship with the Prison Policy Initiative for the summer of 2014.
Consultants
Bill Cooper helps us access and analyze geographic and demographic data.
Bob Machuga designed our new site and has developed our new branding in addition to making videos and maps about prison-based gerrymandering for us.
Jordan Miner develops the code behind some of our interactive features and internal tools. He made our map of sentencing enhancement zones in Hampden County Massachusetts interactive, upgraded our Prisoners of the Census FAQ, and created a lot of clever little features that help various parts of our websites talk to each other. Jordan lives in Illinois.