Sold out!
We're sold out! Please
be in touch
about future events.
Book Launch Party for Jason Stanley's How Propaganda Works to benefit the Prison Policy Initiative
Monday, May 11, 2015, 6 - 8pm
67 Orange Street cocktail lounge
2082 Frederick Douglass Blvd. (btwn W 112th St. & W 113th St.), New York, NY
(Closest subway: A, B, C Cathedral Pkwy 110 St. or 2, 3 Central Park North 110 St.)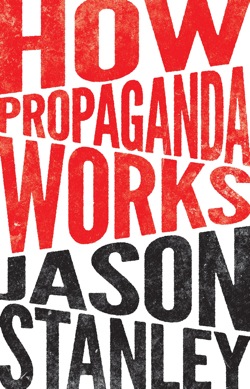 How Propaganda Works (Princeton University Press, May 2015) shows that an understanding of propaganda and its mechanisms is essential for the preservation and protection of liberal democracies everywhere. Join us for an intimate gathering with author Jason Stanley and Prison Policy Initiative Executive Director Peter Wagner to discuss the real costs of the tough-on-crime movement and how a more informed citizenry can protect itself in the future.
Featuring:
Sold out!
We're sold out! Please
be in touch
about future events.
Tickets include two cocktails and a copy of How Propaganda Works. Space is limited, so please purchase tickets in advance via PayPal or by calling PPI's Bernadette Rabuy at (413) 527-0845. Both Jason and the Prison Policy Initiative welcome gifts from people who are unable to attend the book launch.
Royalties from book sales and proceeds from the launch party will benefit the non-profit Prison Policy Initiative's cutting edge research to challenge mass incarceration.
Special thanks to: Karl Franz Williams of 67 Orange Street and Princeton University Press for supporting this event.
Donations made without attending the benefit are fully tax-deductible. Otherwise, ticket prices are tax-deductible beyond a $50 cost per person.
Praise for How Propaganda Works and our featured guests:
"Jason Stanley's How Propaganda Works is a novel and significant contribution that should revitalize political philosophy." —Noam Chomsky
"Written with clarity, honesty, and courage, High Price offers a compelling argument to reconsider this country's policies on drug use, which have proved so ineffective not only from a legal standpoint, but from medical and social perspectives as well." —Akiko Busch, Rivka Galchen, and Eileen Pollack, 2014 Judges, PEN/E.O. Wilson Literary Science Writing Award
"PPI is one of the most imaginative research groups illuminating the dark recesses of our carceral landscape." —Pete Brook, Editor, Prison Photography
The Prison Policy Initiative is known for delivering big results with a small budget, including:
leading four states (Maryland, New York, California and Delaware) and 200+ local governments to count incarcerated people at their homes for redistricting purposes, ending the practice of "prison gerrymandering" that gave extra representation to the legislators who had prisons in their districts and diluted the votes of everyone who did not live next to a prison.
leading the Federal Communications Commission to lower the cost of interstate calls home from prisons and jails from $1/minute to 21cents a minute, and the FCC is currently considering further reductions in the rate, eliminating the hidden fees that can add an extra 38cents to every $1 spent on calls, and regulating in-state calls.
leading Massachusetts to become the second state in the nation to roll back its sentencing enhancement zones law (aka school zones) that gave harsher prison sentences for drug offenses committed in dense urban areas.