When the only way to get necessities in prison is to buy them from a single retailer, exploitation is the result.
by Wanda Bertram, November 14, 2019
As John Oliver explained in a recent episode of Last Week Tonight, people in prison are consumers too: Incarcerated people must pay for basic necessities such as phone calls, soap, and medicine, to say nothing of "luxury" items such as books. But how are consumer rights and protections different for people behind bars, and what can be done to protect these consumers from exploitation?
The Hastings Race and Poverty Law Journal has just published an article by Prison Policy Initiative volunteer Stephen Raher, presenting a comprehensive survey of consumer law issues in prisons and jails. Raher will speak about his article, The Company Store and the Literally Captive Market, at this weekend's Consumer Rights Litigation Conference, sponsored by the National Consumer Law Center. Raher's article explains: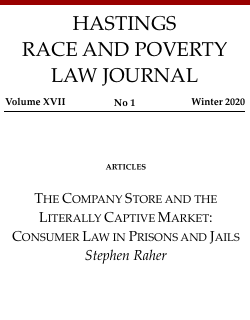 There are also detailed discussions of data breaches impacting incarcerated people (pp. 40-44), deceptive advertising practices (pp. 36-40), and the rapidly-expanding practice of utilizing computer tablets inside prisons and jails (pp. 21-23).
Historically, there was little need for consumer protection in correctional facilities because the facilities used to provide basic necessities and incarcerated people had little need to engage in commercial transactions. But as more essential goods and services — toothpaste, phone calls, socks, etc. — are accessible only via purchase, people are faced with commercial exploitation while they are incarcerated.
Unfortunately, incarcerated people are uniquely vulnerable because in many segments of American law (like telecommunications), government regulators have taken a hands-off approach under the belief that consumers will choose companies that don't treat them unfairly, and therefore the market will self-police. This logic has no place in correctional facilities, where phone and commissary vendors enjoy monopoly powers, and consumers have one choice: submit to an unfair transaction, or go without toothpaste or a phone call with family.
The article concludes with eight concrete policy proposals that describe how state and local governments, and federal lawmakers, can take modest but meaningful steps to protect incarcerated people and their families from unfair and oppressive commercial transactions.
The article is long and detailed, so we prepared a table of contents for it with links to the individual sections:
Table of contents