All profit, no risk: How the bail industry exploits the legal system
By Wendy Sawyer
October 2022
Press release
The image of the bail bondsman who brings fugitives to justice is a familiar and powerful one; unfortunately, it's more fiction than fact. In this report, we explain why the central tenet of the industry — that "it provides a public service at no cost to the taxpayer"1 — is a lie that the industry uses to defend its profitable position in the American criminal legal system. In reality, bail bond companies and their deep-pocketed insurance underwriters are almost always able to avoid accountability when they fail to do their one job - to ensure their clients' appearance in court. The result? They get richer, defendants get poorer, and local law enforcement does their job for them, returning defendants to court on the taxpayer's dime.
When their clients do not appear in court, bail companies are supposed to fulfill their obligations and pay the "forfeited" bail bonds. But journalists and local government officials around the country have independently discovered that their particular city or county is owed thousands or even millions from bond agents for unpaid bail bonds that have been ordered forfeit. Many of these jurisdictions have yet to put together that this is not simply a local problem, but a systemic problem with commercial money bail — and one that has been intentionally created by the bail industry to protect its profits.
This report brings together evidence from jurisdictions around the country, as well as from previous research, to show that the system is dysfunctional by design, benefitting the commercial bail bond industry far more than its clients or the public. Every bail company's primary goal is to maximize their own returns, and paying a client's bond when he or she fails to appear in court runs contrary to that goal. As this report shows, bail companies will not pay forfeitures unless they are forced, and forcing these well-resourced companies to pay what they owe costs counties a great deal of time and money — especially when the bail industry continues to lobby for and defend the legal loopholes that allow them to avoid accountability.
This report presents and explains:
The six major practical, legal, and procedural loopholes that the industry exploits and works to expand, which keep them from having to pay up when defendants don't appear in court;
A compilation of previously isolated examples of investigatory research, news stories, and illuminating statements from government and industry actors, which together show a pattern of problems with commercial bail systems avoiding accountability across at least 28 states; and
An argument that these problems are likely to exist in every state that allows commercial bail companies to post bonds, and details suggesting where concerned citizens and officials might look for problems in their own jurisdictions.
While this report details the many legal advantages bail companies have secured for themselves, we conclude that "fixing" the system is not a viable option. Rolling back all of the laws the industry has lobbied for would be nearly impossible, especially in the face of its immense political influence. Instead of trying to "fix" a broken money bail system, or continuing to subsidize private bail companies, counties should implement alternatives to money bail that have been shown to work.
By now, it should go without saying that the criticisms of the bail industry are many, and its exploitation of the courts isn't even the most important one. Exposes of the industry's abuses and corruption abound, and researchers have shown time and again how the harms of money bail disproportionately impact the poor and communities of color, and that the system undermines justice and public safety. But with this report, we hope to show that the industry's one major argument in its own defense is, in fact, built on a lie.
Why bail forfeitures matter
Bail bond companies "bond" out jailed people who cannot afford bail in exchange for a nonrefundable fee, and promise to "forfeit" (pay) the full bail amount to the courts if their client fails to appear in court.
The bail forfeiture process — in which localities collect the money that bail bond companies owe them — is the only part of the process that holds commercial bail bond companies accountable. Yet, throughout the country, courts fail to actually extract this money owed. In a 2015 report, a Utah State Courts committee found:
"At present, the supposedly powerful incentive that commercial bail bonds create to ensure court appearance does not exist. If commercial bail bonds are to have any utility, the forfeiture process must be simplified and improved… Unless and until these steps are taken, these bonds truly are not worth the paper they are written on."
A defendant's "failure to appear" initiates a slow, convoluted bail forfeiture process: one with countless loopholes that favor bond companies, and that very rarely actually results in the bond company paying the court.10 A former County Prosecutor in New Jersey suggests "'the public would be appalled' if it knew how little of the forfeited bail owed was turned over."
Most of the time, when a defendant misses a court date, he or she will appear on their own shortly after;11 they haven't "fled" but more often cite forgetfulness or logistical reasons for their absence. Even when they don't return on their own, local law enforcement picks up the slack, returning more defendants to custody than bond agents do. The law gives bail bond companies a wide grace period in which the defendant tends to return either on their own or after being stopped by law enforcement.
Despite this broken system (in which bail bond companies extract money from defendants and waste court resources without providing meaningful services in exchange), commercial bail bond agents are allowed and regularly operate in over 40 states. The money bail system is changing rapidly, with Illinois becoming the first state to eliminate all forms of money bail in 2021. But the commercial bail industry remains firmly entrenched across most of the U.S., despite the harms it causes.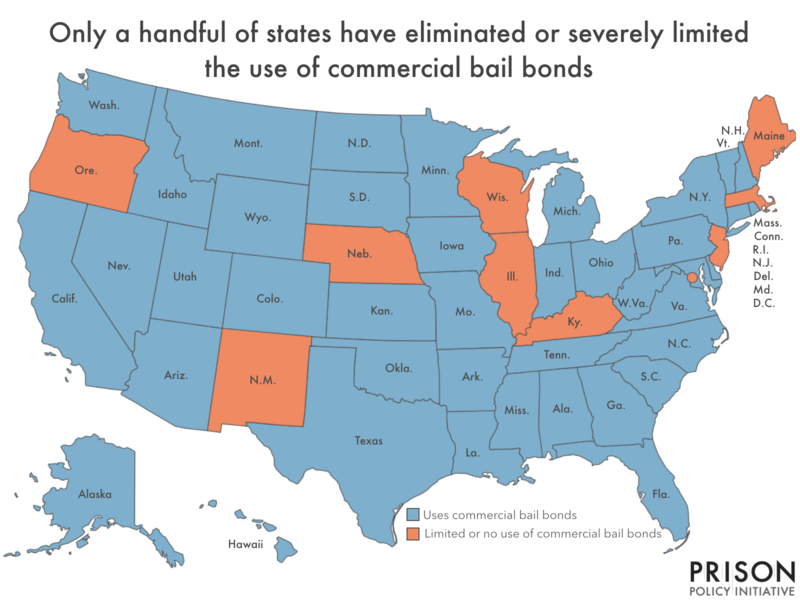 Bail companies owe counties millions in unpaid forfeitures
Over the past twenty years, journalists and government agencies have discovered that many forfeited bonds in their local jurisdictions go unpaid or otherwise fall through the cracks. Our survey of these reports found that in at least 28 states, jurisdictions have reported serious problems with bond forfeitures, including: Alabama, Arizona, Arkansas, California, Colorado, Connecticut, Florida, Georgia, Hawaii, Indiana, Louisiana, Maryland, Minnesota, Mississippi, Missouri, New Hampshire, New Jersey, New Mexico, New York, North Carolina, Oklahoma, Pennsylvania, Rhode Island, South Carolina, South Dakota, Texas, Utah, and West Virginia.12 Some of these states, of course, have since reformed or largely abandoned their money bail systems, but their experiences with the commercial bail industry are nevertheless useful in illuminating this widespread problem.13
The audits and investigative reports we compiled describe loopholes in the bail forfeiture process that bond agents and surety companies exploit to avoid paying huge sums owed to the courts — ranging from hundreds of thousands to millions of dollars. For example:
California: Estimates of the amount bond companies owe the state each year are well into the millions. In Los Angeles County, where over 99% of bonds are surety bonds, $1.1 million in forfeited bonds went unpaid in 2016-17. In San Francisco, too, officials estimate that bond agents successfully avoid paying "millions" of dollars owed to the court each year.14
Louisiana: One company alone owed Orleans Parish (New Orleans) nearly $1 million; officials in East Baton Rouge reported that bond agents owed them another $1 million.
Mississippi: As of 2016, private bail agents and companies owed an estimated $1.8 million in unpaid forfeitures. $372,000 was owed to Rankin County alone.
New York City: In 2011, bond agents and sureties owed over $2 million for 150 cases in which judges ordered bail bonds forfeited.
Pennsylvania: Northampton and Lehigh counties, both in the Allentown area, found that bail bond agents owed over $1.5 million and $350,000, respectively, in unpaid forfeitures.15
Texas: Bond agents and sureties in Harris County (Houston) owed an estimated $26 million in unpaid forfeitures, with some cases decades old. Similarly, investigative reporters found agents and sureties owed over $35 million to Dallas County in forfeitures going back decades. And despite an uptick in felony cases, the amount of forfeited bonds collected fell 80% between 2002 and 2011. Finally, agents and sureties in Tarrant County (near Fort Worth) paid less than $1 million of $5 million owed in forfeited bonds between 2009-2012.
For a list of more examples, see the Appendix table.
To date, almost all of these audits and investigative reports are framed as local scandals with a kind of banal bureaucratic dysfunction at their core; they lay the blame on inept government agencies failing to track, pursue, and collect forfeitures. One of the goals of this report is to demonstrate that these stories are not isolated, but part of a much larger structural problem: the bail industry intentionally and systematically avoids making good on its promises.
These local investigations may have missed the larger, structural pattern that allows the bail industry to consistently avoid financial responsibility, but a few skeptical journalists and advocacy groups have caught on. They observe that the insurance companies that back bail bond companies almost never take losses on bail bonds — unlike similar companies who underwrite surety bonds in other industries. When Mother Jones investigated the financial records of 32 surety companies that underwrite bail bonds, they found that these companies paid less than 1% in bail losses. In comparison, Color of Change and the ACLU report that insurers who underwrite surety bonds for other industries report average losses of about 13%. According to their report, for major bail bond insurer Lexington National, even its negligible reported losses on bail bonds "are mostly a timing issue and are usually recouped." Another goal of this report, then, is to explain exactly how bail bond companies and their insurers manage to avoid paying any losses with so few regulators and policymakers catching on.
Bail bond companies employ various strategies to avoid paying what they owe
So how, exactly, do bail bond agents and their insurers report losses rounding to zero, when defendants' "failure to appear" (FTA) rates are typically between 15-30%,16 including about 18% for felony defendants released on surety bail bonds?17 After all, each bonded defendant who misses their court date should, in theory, result in a bond forfeiture.
Our analysis revealed four major strategies bail bond companies routinely employ to avoid forfeitures:
Bail bond agents consider financial risk, not risk of nonappearance in court, when deciding who to write bonds for. They routinely refuse to write bonds for people they think are too poor to cover any potential losses, no matter how likely a defendant is to appear in court.. Unlike pretrial services agencies, which have to work with all pretrial releasees assigned to them, bail bond companies get to pick and choose their clients. Although the industry likes to present itself as part of the law enforcement sphere, in this way these companies actually act more like lenders than part of the criminal legal system. For example, one New York-based agent profiled by The New Yorker "turn[s] away potential customers if he thinks… the family won't be able to cover his costs if the defendant disappears." He reported only one default in two years.
Bail bond companies pass the risk along to defendants and their loved ones by collecting collateral. Even in the rare cases when bail bond companies actually pay forfeitures, the costs and risk are passed on to the defendants and their co-signers on the bond (typically family). Bond agents generally require collateral in addition to the typical 10% nonrefundable fee — meaning that families are at risk of losing their homes and property to repay the bond company.18
Bail companies aggressively fight forfeitures in court. Despite the bail industry's stated purpose to assume responsibility for their clients' appearance in court,19 the industry quite openly avoids accountability when bonded defendants miss their court dates. Agents, backed by surety companies with deep pockets, fight forfeitures in court and are usually successful. In San Francisco, for example, "bail bond agencies challenge approximately five forfeitures per month. An estimated 75% of these challenges are granted without contest…." A surety company agent in Oklahoma explained why his company paid so little in forfeitures: "We're more aggressive with our attorneys."
And most importantly, the bail industry lobbies for legislation that makes it easier to avoid paying forfeitures. This fourth strategy is the most powerful. The industry has directed its vast resources — $2 billion per year in premiums from defendants and families — to influence policies that shield themselves from risk and protect their profits. A 2016 report by Color of Change and the ACLU Campaign for Smart Justice details many of the industry's lobbying efforts over the years.20 The next section of this report outlines many of the specific policies the bail industry has passed through its extensive lobbying efforts.
Bond agents have successfully lobbied for policy "loopholes" and "cracks" in the system that allow them to avoid accountability
Bail industry lobbying is at the root of the dysfunctional money bail system. The bail bond lobbying industry is organized, powerful, rich, and has a track record of killing bail reform.21
The industry has worked hand-in-hand with ALEC, the pro-privatization lobby, for decades to block reforms that would hurt their bottom line, and to write and pass laws in their favor throughout the country.22 It has created an array of policies and bureaucratic processes that appear designed to provide bail bond companies every opportunity to avoid paying when their clients miss court dates. Bail companies rely on these procedural loopholes — as well as the tendency of county officials to let forfeitures fall through the cracks — to reap profits while taking on little risk and providing little service to the public.
In the following section, we outline six of these key loopholes, which occur chronologically at each step of the bail forfeiture process. Each of the six help bond companies avoid forfeiting the money they owe. "Fixing" the system — so that courts can collect a large enough share of forfeitures to motivate bond agents to personally ensure court appearance — would require closing these many loopholes. Counties and states undertaking such an effort should anticipate fierce opposition from the well-resourced and litigious bail industry, and should consider whether abandoning commercial bail bonds entirely would be more effective for the court and the taxpayer.23
Conclusions and Recommendations
The bail forfeiture process is clearly designed to favor bail bond companies, as evidenced by policies that guarantee:
The forfeiture process only works if every actor performs perfectly;
Any procedural error absolves bond companies and insurers of responsibility; and
Bond agents are credited with the return of the client to court — even years later and regardless of whether they had anything to do with it.
Critically, the policies and practices that allow bail bond agents to escape accountability are typically not available to individuals who are able to pay their own bail. Together, these loopholes amount to a structural bias in favor of commercial bail bond agents that give them more powers and protections, and subject them to fewer penalties, than ordinary people who pay their bail directly instead of paying a fee to a bail company to secure their freedom. These differences affect each stage of the bail process, from access to bond money to the ability to dispute and recoup bail forfeitures.
It's possible that policymakers conceded to these various procedural and legal loopholes because of the presumed value of surety bonds to the criminal legal system. But the loopholes have chipped away at the forfeiture system so completely that it is now obvious that surety bonds benefit the bail bond industry far more than the legal system or the public.34
So, what can be done to bring more reason and justice to the bail system? Readers might be wondering whether the forfeiture system can be repaired, but we conclude that it would be impossible at this point for localities to go up against the powerful lobbying of the industry and carefully unwind each of the unfair legal advantages it has won for itself. Some scholars and advocates have suggested a strategy of targeting the role of insurance companies that back bail bond companies. Others, including the American Bar Association, have suggested abolishing the use of commercial bail bonds in pretrial release systems, as a handful of states have already done. Finally, many jurisdictions have attempted to reduce the use of money bail by implementing a system that relies on supposedly-objective "risk assessments" to inform pretrial decisions, but experts on these tools cite "grave concerns" about their reliability and neutrality, particularly when it comes to race and ethnicity, and recommend against such reforms. As we have discussed, all bail reform efforts face enormous resistance from the bail industry, which has successfully blocked popular and practical bail reform efforts across the country. As we have discussed, all reform efforts to reduce the use of money bail face enormous resistance from the bail industry, which has successfully blocked popular bail reform efforts across the country.
Instead, it makes more sense for states and localities to end the use of money bail entirely. This, too, would face fierce opposition from the industry,35 but a major fight to end cash bail is more feasible than rolling back dozens of separate procedural advantages across 41 states and thousands of counties. And given the many other, even more harmful problems caused by money bail than the industry's financial exploitation (as evidenced by previous research), this broader solution would be far more impactful than focusing on commercial bail alone. Illinois has proven that ending money bail at the state level is politically and practically feasible, laying the groundwork for other states to make this major change to their bail systems.
In the interim, until money bail is eliminated, states and local governments should:
Release most defendants pretrial without monetary conditions36 and without any restrictive conditions, such as by expanding the use of release on personal recognizance, providing all released individuals with voluntary pretrial supports that will facilitate attendance in court (such as court date notification systems), and requiring that judges explicitly assess whether release with voluntary supports would be sufficient to assure court attendance.
When the court chooses to use monetary conditions to ensure appearance in court, require a determination of the defendant's ability to pay before setting a bail amount, and rely on other forms of money bail that don't involve profit motives, such as unsecured bonds or partially-secured bonds (e.g., "percentage" or "deposit" bonds paid directly to the court).37
To prevent commercial bail companies from profiting from publicly-funded pretrial services through "doubling up," pretrial services agencies should decline to provide supervision (but not voluntary supports) in cases where money bail is also posted, unless addition of pretrial supervision will clear the defendant's obligations on the bail bond.38
As long as commercial bonds are accepted by courts, ensure that all agents, companies, and insurers operate in compliance with consumer protection laws, at a minimum. In addition, consider requiring bond companies to operate in cash, as defendants must, instead of relying on the surety insurance system.
Acknowledgements
The author wishes to thank Katie Rose Quandt for her invaluable help with the writing of this report, as well as colleagues Leah Wang and Emily Widra for their help with research and map design, and Peter Wagner for helpful editorial guidance. The author also thanks reviewers from Civil Rights Corps for their feedback and illustrator Kevin Pyle for designing a graphic to help explain how the commercial bail industry players, unlike defendants, profit while avoiding accountability. The Prison Policy Initiative thanks the MacArthur Foundation and the Chrest Foundation for making this report possible. Lastly, we thank our individual donors, who give us the resources and the flexibility to quickly turn our insights into new movement resources.
About the author
Wendy Sawyer is the Research Director at the Prison Policy Initiative. Along with helping direct the organization's research priorities, Wendy is the author (or co-author) of several major reports, including Mass Incarceration: The Whole Pie, Beyond the Count: A deep dive into state prison populations, Youth Confinement: The Whole Pie, and Arrest, Release, Repeat: How police and jails are misused to respond to social problems. Wendy also frequently publishes briefings on recent data releases, academic research, women's incarceration, pretrial detention, probation, and more.
About the Prison Policy Initiative
The non-profit, non-partisan Prison Policy Initiative was founded in 2001 to expose the broader harm of mass criminalization and spark advocacy campaigns to create a more just society. It launched the national fight to keep the prison system from exerting undue influence on the political process (a.k.a. prison gerrymandering). Among the Prison Policy Initiative's hundreds of reports that help the public more fully engage in criminal justice reform, its 2016 report Detaining the Poor: How money bail perpetuates an endless cycle of poverty and jail time remains one of the most widely-cited reports on the injustice of money bail.
Appendix tables
Table of relevant state bail forfeiture statutes to learn how bail forfeiture works in your state