Fair hearings for children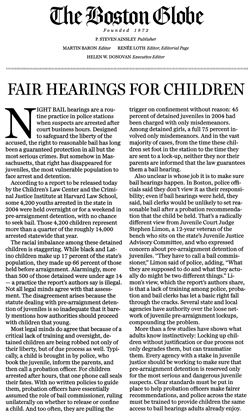 BOSTON GLOBE EDITORIAL
September 15, 2006
Night bail hearings are a routine practice in police stations when suspects are arrested after court business hours. Designed to safeguard the liberty of the accused, the right to reasonable bail has long been a guaranteed protection in all but the most serious crimes. But somehow in Massachusetts, that right has disappeared for juveniles, the most vulnerable population to face arrest and detention.
According to a report to be released today by the Children's Law Center and the Criminal Justice Institute at Harvard Law School, some 4,200 youths arrested in the state in 2004 were held overnight or for a weekend in pre-arraignment detention, with no chance to seek bail. Those 4,200 children represent more than a quarter of the roughly 14,000 arrested statewide that year.
The racial imbalance among these detained children is staggering. While black and Latino children make up 17 percent of the state's population, they made up 66 percent of those held before arraignment. Alarmingly, more than 500 of those detained were under age 14 -- a practice the report's authors say is illegal. Not all legal minds agree with that assessment. The disagreement arises because the statute dealing with pre-arraignment detention of juveniles is so inadequate that it barely mentions how authorities should proceed with children that young.
Most legal minds do agree that because of a critical lack of training and oversight, detained children are being robbed not only of their liberty, but of due process as well. Typically, a child is brought in by police, who book the juvenile, inform the parents, and then call a probation officer. For children arrested after hours, that one phone call seals their fates. With no written policies to guide them, probation officers have essentially assumed the role of bail commissioner, ruling unilaterally on whether to release or confine a child. And too often, they are pulling the trigger on confinement without reason: 45 percent of detained juveniles in 2004 had been charged with only misdemeanors. Among detained girls, a full 75 percent involved only misdemeanors. And in the vast majority of cases, from the time these children set foot in the station to the time they are sent to a lock-up, neither they nor their parents are informed that the law guarantees them a bail hearing.
Also unclear is whose job it is to make sure bail hearings happen . In Boston, police officials said they don't view it as their responsibility; even if bail hearings were held, they said, bail clerks would be unlikely to set reasonable bail after a probation recommendation that the child be held. That's a radically different view from Juvenile Court Judge Stephen Limon, a 12-year veteran of the bench who sits on the state's Juvenile Justice Advisory Committee, and who expressed concern about pre-arraignment detention of juveniles. ``They have to call a bail commissioner," Limon said of police, adding, ``What they are supposed to do and what they actually do might be two different things." Limon's view, which the report's authors share, is that a lack of training among police, probation and bail clerks has let a basic right fall through the cracks. Several state and local agencies have authority over the loose network of juvenile pre-arraignment lockups, compounding the problem.
More than a few studies have shown what adults know instinctively: Locking up children without justification or due process not only degrades them, but can traumatize them. Every agency with a stake in juvenile justice should be working to make sure that pre-arraignment detention is reserved only for the most serious and dangerous juvenile suspects. Clear standards must be put in place to help probation officers make fairer recommendations, and police across the state must be trained to provide children the same access to bail hearings adults already enjoy.
&copy Copyright 2006 Globe Newspaper Company.