Honoring Johnny Cash's prison reform activist legacy
Many honor Johnny Cash's contribution ton country music, but few know of his passionate advocacy for incarcerated people.
by Peter Wagner, September 12, 2013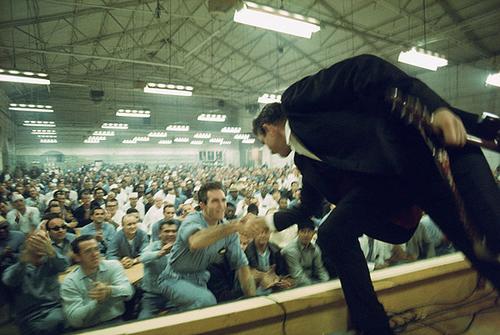 Johnny Cash shaking hands with Glen Sherley during Cash's performance at Folsom Prison, 1968 (photo by Jim Marshall).
Today marks the 10th anniversary of the death of Johnny Cash at the age of 71. The country music star was famous for his At Folsom Prison and At San Quentin live albums, and his hit Folsom Prison Blues
What is less known is how deep Johnny Cash's activism went. Earlier this year, the BBC Magazine wrote a great article to accompany a two part radio documentary about Cash's work and effectiveness:
Cash's classic albums recorded at Folsom Prison and San Quentin are well known, but few are aware that these were just two of many prison concerts he played over three decades.
Cash's experiences in these jails turned him into a passionate prison reformer who donated his own money to the cause, took a released prisoner into his own home and even met President Richard Nixon to force the issue.
Johnny Cash never served time in prison himself, but he struggled with his own demons, and the Man in Black identified with:
…the poor and the beaten down,
Livin' in the hopeless, hungry side of town,
…the prisoner who has long paid for his crime,
But is there because he's a victim of the times.
Johnny Cash deserves a lot of credit for putting the issue of prison reform on the minds and radio waves of a generation, and for setting out a shining example of how our cultural leaders can help make social change.
Since Cash's death, I discovered an even rarer and more important song that I think illustrates the depth of Cash's passion and vision for prison reform: Jacob Green. The song was first performed at a Swedish prison and released on the 1974 LP "Pa Osteraker" (Inside a Swedish Prison), and then on the recording of a 1976 concert at the Tennessee State Prison, A Concert Behind Prison Walls visible on YouTube:
As I wrote 10 years ago in a short homage to both Johnny Cash and his song San Quentin: "We'll miss you Johnny. May all the world never forget you sang. All the world will rejoice you did so much good."