Meeting new board members: Khalilah L. Brown-Dean
Meet PPI board member and associate professor of political science, Khalilah L. Brown-Dean
by Bernadette Rabuy, September 9, 2015
We are very excited to introduce a member of the Prison Policy Initiative board: Khalilah L. Brown-Dean. Khalilah L. Brown-Dean is an Associate Professor of Political Science at Quinnipiac University. Check out the interview below to learn why Khalilah was drawn to the PPI board: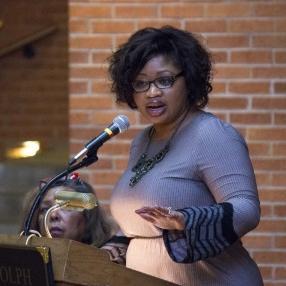 Why did you decide to join the PPI board?

Khalilah L. Brown-Dean: Academics tend to work in silos. We focus in on a particular problem or set of problems and are rarely in conversation with those beyond our discipline. Joining the PPI Board provides a meaningful opportunity to learn from and work with others who are committed to dismantling our reliance on punishment. I envision my role as helping to bridge the gap between scholars, activists, philanthropists, and legislators.

What does your work focus on? And what's the connection between that work and the Prison Policy Initiative?


KBD: My work is driven by a central question: How can we make the democratic experience more meaningful? I address this question through the lens of American Politics with a particular emphasis on mass political behavior, public policy, and law. I recently co-authored a report for the Joint Center for Political and Economic Studies on the contemporary status of voting rights in the United States entitled "Fifty Years of the Voting Rights Act: The State of Race in Politics." I had the opportunity to present the key findings during the 50th Anniversary of the Bloody Sunday March in Selma, Alabama. Our research addressed how issues such as disenfranchisement, gerrymandering, and hyperincarceration pose monumental challenges to sustaining voting rights and representation. It's a perfect fit with the work of PPI.

I'm currently completing a project that centers the experiences of African Americans and murder victims' families within the death penalty repeal movement; two groups disproportionately affected yet grossly underrepresented within this policy space. I advance a concept called "authentic power" to explain how those detrimentally impacted by a policy can get policymakers and other government officials to change the policy in question to their benefit. The work grows out of my experience advocating on behalf of victims' families whose needs often go overlooked in the realm of criminal justice reform. I also serve on the Board of the Community Foundation for Greater New Haven. This year we launched two major funding initiatives to support community-based re-entry and immigration.

What do you think is most unique about the Prison Policy Initiative and the projects it takes on?


KBD: My Graduate School mentor, Dr. William E. Nelson, Jr., once told me that research is only meaningful if it helps address a deceptively simple question, "So what?" PPI's work directly addresses that question by using data to tell a complex story about the myriad ways punishment policies widen the gap between the principle and the practice of American democracy. I greatly admire PPI's ability to make its work timely, relevant, and accessible to multiple audiences.

What's something that you wish more people knew about the Prison Policy Initiative?


KBD: I wish people knew that PPI is a small organization with a big mission and an even bigger commitment to advancing the cause of justice. Before I joined the Board I assumed PPI had a massive staff with unlimited resources given the many cutting-edge and widely-cited reports it produces. I was wrong!