Food insecurity is rising, and incarceration puts families at risk
Several studies show that formerly incarcerated people - and the children of currently incarcerated people - are at especially high risk of experiencing food insecurity.
by Jenny Landon and Alexi Jones, February 10, 2021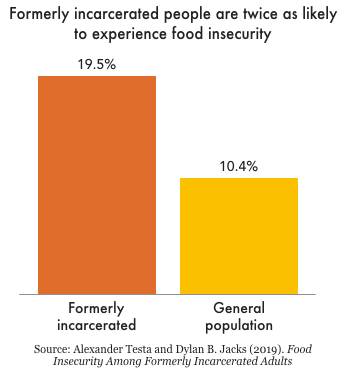 The COVID-19 pandemic – and the government's insufficient response in providing economic relief – has led to an enormous increase in food insecurity in this country. At least 54 million people are facing experiencing food insecurity (meaning they don't have access to healthy food), and past research suggests that formerly incarcerated people, and the children of currently incarcerated people, are at especially high risk. This briefing summarizes and explains this research.
Food insecurity is an often-overlooked consequence of incarceration, and it can't be separated from the more well-known problems of homelessness and unemployment. While the estimates vary somewhat, researchers consistently find that food insecurity is more common among formerly incarcerated people — and families with an incarcerated parent — than among the general population:
These last two studies offer further, direct evidence of how incarceration punishes entire families and communities, not just people who are locked up. Most incarcerated people are parents; their absence while incarcerated – and the barriers they face when they come home – have ramifications for their entire families, particularly children. The potentially severe and lifelong consequences of experiencing food insecurity in childhood are among the many injustices visited upon the families and communities most impacted by mass incarceration.
The high levels of food insecurity among formerly incarcerated people also underscores the difficulty of reentry, and the lasting, life-threatening effects of incarceration. Apart from the obvious policy choice of incarcerating fewer people, states and counties must provide more robust support for recently released people. States that still limit access to food programs like SNAP (or food stamps) because of former convictions must immediately abandon this discriminatory practice, and invest in infrastructure so that formerly incarcerated people and food-insecure families have access to transportation, housing, and employment opportunities.