New report, Beyond the Count, uses demographic data to show the social disadvantage of people locked up in state prisons
People in prisons have endured disadvantage and poverty all the way back to childhood, the Prison Policy Initiative's new report shows.
April 13, 2022
This morning, the Prison Policy Initiative published Beyond the Count, a report that examines the most recent and comprehensive demographic data about people in state prisons and provides a groundbreaking view of the lives of incarcerated people before they were locked up. The report's findings make clear that solving this country's mass incarceration crisis will require policy changes that begin outside the prison walls and tackle the inequities and disadvantages incarcerated people face early in their lives.
The report analyzes data from the Bureau of Justice Statistics' "Survey of Prison Inmates," collected in 2016 and released in late 2020. The data show what many in the criminal justice reform movement already know: that the U.S. criminal justice system today locks up the least powerful people in society. Key takeaways include:
Many, if not most, people in prison grew up struggling financially. 42% of survey respondents said their family received public assistance before they were 18. Respondents also reported uncommonly high levels of homelessness, foster care, and living in public housing before the age of 18.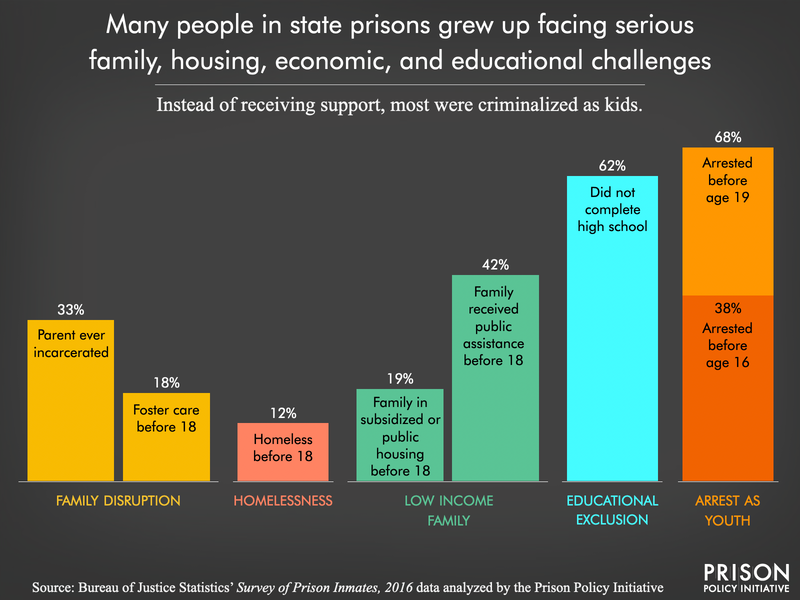 Most individuals in state prisons report that their first arrest happened when they were children. 38 percent of the people BJS surveyed reported a first arrest before age 16, and 68% reported a first arrest before age 19. The average survey respondent had been arrested over 9 times in their life.
The typical person in state prison is 39 years old and has a 10th grade education, a fact that is most likely linked to youth confinement, which disrupts a young person's life and schooling.
Half (49%) of people in state prisons meet the criteria for substance use disorder (SUD), and 65% were using an illicit substance in the immediate lead-up to their incarceration, suggesting that many people who are not locked up for drug offenses are still victims of our country's choice to criminalize substance use rather than treat it as a health issue.
The Prison Policy Initiative's report includes more than 20 detailed data tables that allow readers to better understand the people who are in state prisons and the challenges they have faced in their lives. Beyond the Count also includes a section diving into the data on the race, age, gender identity, and sexual orientation of people in state prisons, explaining that a disproportionate number of incarcerated people are racial minorities, very young or very old, or LGBTQ. Many of the key demographic findings in Beyond the Count (such as incarcerated people's age at first arrest) are also broken down by race or gender.
While the data in this report is about people in state prisons, it does not allow statistics to be broken out for individual states.
"What the data in our new report show is that this country is locking up the same people it has failed by not investing in things like good healthcare, housing, and education for all," said report author Leah Wang. "What's worse, the data show that most disadvantaged people's encounters with the justice system begin during childhood, when they are arrested rather than given the care and attention they need as young people."
The full report is available at https://www.prisonpolicy.org/reports/beyondthecount.html.