New data reveals where people in Nevada prisons come from
Report shows communities in all corners of the state are harmed by mass incarceration
August 9, 2022
Today Silver State Voices, the ACLU of Nevada, and the Prison Policy Initiative released a new report, Where people in prison come from: The geography of mass incarceration in Nevada, that provides an in-depth look at where people incarcerated in Nevada state prisons come from. The report also provides fourteen detailed data tables — including data for city council wards in Las Vegas, North Las Vegas, Sparks, Henderson, and Reno, as well Native lands — that serve as a foundation for advocates, organizers, policymakers, journalists, academics and others to analyze how incarceration relates to other factors of community well-being.
The data and report are made possible by the state's landmark 2019 law that requires that people in prison be counted as residents of their hometown rather than in prison cells when state and local governments redistrict every ten years.
The report shows:
Mass incarceration is a problem harming all corners of the state, with 99.9% of the state's residents living in a county that is missing a portion of its population to imprisonment. Only Esmeralda County, with a population of 729 people, did not have any residents in state prison at the time the data was collected.
While Clark County sends the most people to prison — 5,957 for an imprisonment rate of 263 per 100,000 residents — the smaller Nye and White Pine Counties have significantly higher imprisonment rates; both are at 365 per 100,000 residents.
There are dramatic differences in incarceration rates within communities, often along racial and economic lines. For example, in Las Vegas, city council wards 3 and 5 have the highest imprisonment rates in the city, (553 per 100,000 residents and 685 per 100,000 residents, respectively) and highest poverty rates.
Some Native communities are hit particularly hard by mass incarceration, with South Fork Reservation, Ely Reservation, Carson Colony, and Battle Mountain Reservation reporting imprisonment rates that are more than four times higher than the state average.
Data tables included in the report provide residence information for people in Nevada state prisons at the time of the 2020 Census, offering the clearest look ever at which communities are most impacted by mass incarceration. They break down the number of people locked up by county, city, town, zip code, legislative district, census tract, and other areas.
The data show the cities with the highest state prison incarceration rates are Ely (482 per 100,000 residents), Las Vegas (330 per 100,000 residents) and Reno (316 per 100,000 residents). For comparison, Lovelock has the lowest imprisonment rate at 55 residents per 100,000 residents. The state imprisonment rate is 252 residents per 100,000 residents.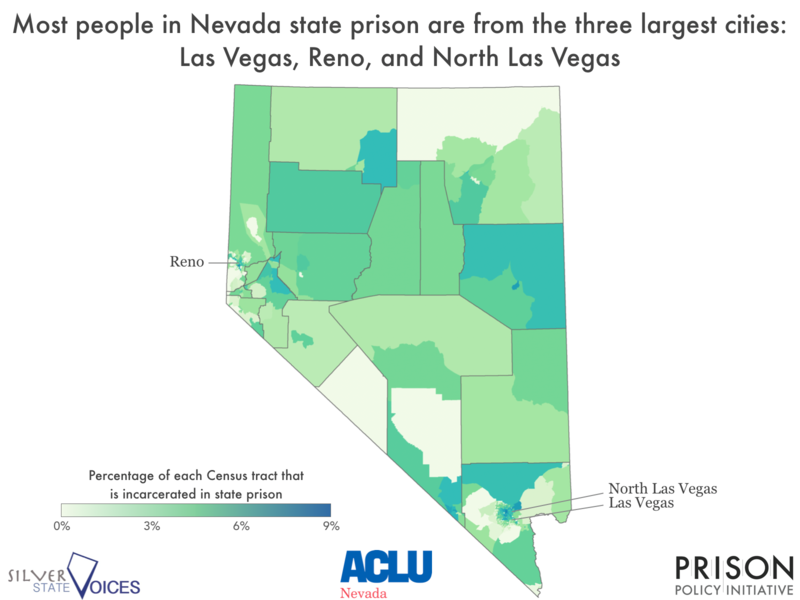 "The nation's 40-year failed experiment with mass incarceration harms each and every one of us. This analysis shows that while some communities are disproportionately impacted by this failed policy, nobody escapes the damage it causes," said Emily Widra, Senior Research Analyst at the Prison Policy Initiative. "Our report is just the beginning. We're making this data available so others can further examine how geographic incarceration trends correlate with other problems communities face."
The report cites studies that show that incarceration rates correlate with a variety of negative outcomes, including higher rates of asthma, depression, lower standardized test scores, reduced life expectancy and more. The data included in this report gives researchers the tools they need to better understand how these correlations play out in Nevada.
"The work of our Nevadans Count coalition during the census and redistricting process was the precursor to this report," said Emily Persaud-Zamora, Executive Director at Silver State Voices. "Our report provides a more precise picture of the nexus of systemic oppression and mass incarceration. Compounded with the other health disparities in the report, it shows our communities have never been voiceless; they have been muted. Through our rights restoration work, Silver State Voices is committed to amplifying and sustaining the message that BIPOC communities and those impacted by the criminal legal system can reclaim their political power."
"Through the dissemination of this report, we hope to continue to bring light to the pervasiveness of inequity within the criminal legal system," said ACLU of Nevada Policy Manager Lilith Baran. "Mass incarceration continues to undermine our democracy and the impact is far and wide."
The report is part of a series of reports examining the geography of mass incarceration in America.
Nevada is one of more than a dozen states and 200 local governments that have addressed the practice of "prison gerrymandering," which gives disproportional political clout to state and local districts that contain prisons at the expense of all of the other areas of the state. In total, roughly half the country now lives in a place that has taken action to address prison gerrymandering.