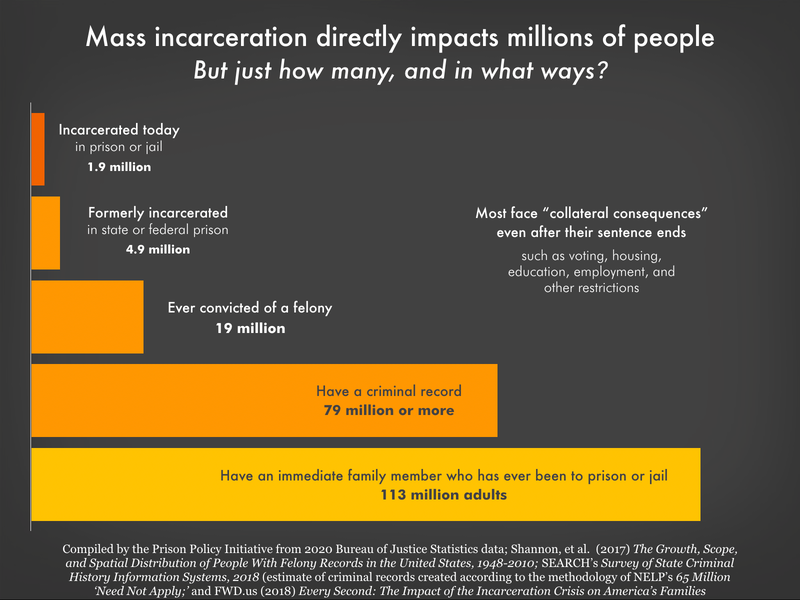 Data Source: Compiled by the Prison Policy Initiative from 2020 Bureau of Justice Statistics data; Shannon et al. (2017) The Growth, Scope, and Spatial Distribution of People With Felony Records in the United States, 1948–2010; SEARCH's Survey of State Criminal History Information Systems, 2018 (estimate of criminal records created according to the methodology of NELP's 65 Million Need Not Apply); and FWD.us (2018) Every Second: The Impact of the Incarceration Crisis on America's Families. (Graph: Wendy Sawyer & Peter Wagner, 2022)
This graph originally appeared in Mass Incarceration: The Whole Pie 2022.
Far more people are impacted by mass incarceration than the 1.9 million currently confined. An estimated 19 million people are burdened with the collateral consequences of a felony conviction (this includes those currently and formerly incarcerated), and an estimated 79 million have a criminal record of some kind; even this is likely an underestimate, leaving out many people who have been arrested for misdemeanors. Finally, FWD.us reports that 113 million adults (45%) have had an immediate family member incarcerated for at least one night.