Some additional observations about prison phone fees, based on discussions we had with the phone companies after the report's release.
by Peter Wagner, May 29, 2013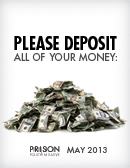 In our report, Please Deposit All of Your Money: Kickbacks, Rates, and Hidden Fees in the Jail Phone Industry, we catalog the many fees customers pay at every step of the way, including fees for making deposits, keeping accounts open, and getting refunds. Our report puts these fees in a larger context, and discussions we've had since the report's release lead us to some additional observations about fees. In our report, we wrote:
To be sure, businesses in many industries incur some processing costs by accepting credit or debit cards in person, via the internet, or over the telephone.65 Businesses usually respond by setting minimum purchase levels for a take out food order, charging a slightly higher rate per gallon of gasoline, or by simply writing it off as the cost of doing business. But this section of the report suggests that prison telephone companies may be approaching the question from the other end: providing telephone services in order to make money by charging extra fees. Indeed, because the commission system reduces the potential for corporate profit from the telephone calls, fees that should be no more than supplemental income are turned into a central source of profit.
Continue reading →