Our report leads two phone companies to clarify & improve policies
As a result of the report, at least two companies, Turnkey and NCIC, made several clarifications and improvements to their fee policies.
by Peter Wagner, May 28, 2013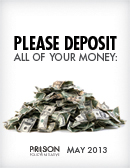 Several phone companies have been keeping busy in the couple of weeks since we released our new report exposing the hidden fees in the prison phone industry, mostly for the better.
I'm proud to report that, as a result of the report, at least two companies, Turnkey and NCIC, made several clarifications and improvements to their fee policies:
NCIC worked with Western Union to lower the fees charged to send payment to the company. The fee was lowered from almost $10 to $5 — half what Western Union charges to send payments to the larger companies. (NCIC originally thought the $9.95 fee we stated in our report was an error, but investigation showed that Western Union was charging far more than the company was aware.)
When NCIC representatives amended their tariffs to remove the incorrectly-listed rates we discuss in footnote 10 of our report, they also quietly improved their refund policies. While they slightly increased their refund fee (to $2.50 from $2.00 for some account types, keeping it at $6.75 for others), they dropped the monthly inactive account fee from $10 to $5, and significantly increased the amount of time before such a fee could be charged from 30 days to 180 days.
Turnkey has revised its website information on refund policies to be consistent with the practices that the company says were already in place: people released from the jail are allowed take unspent funds with them. It turns out that, despite Turnkey's self-description in their FCC Wright petition filing that it is a "small provider of inmate commissary, vending, phone services and video visitation services to approximately 70 jails in the Midwest and Northwest," it has exactly one phone contract. In that one contract, Turnkey only bills a customer's commissary account when a call is made, avoiding any problems with unused minutes. In some jails, commissary funds can be used to purchase phone time from a different company that holds the phone contract for that jail. Although I can see why Turnkey representatives might feel compelled to explain that they can't refund unused minutes purchased from third-party companies, we see that as an issue between the released individual and that third-party prison phone vendor, not something that Turnkey should have been taking responsibility for.
So, if the two of the three companies identified in Table 4 Refund Policies as having the worst policies have clarified and improved their policies, will the third company, Telmate, be next?
Sadly, despite launching a new website with all new text, Telmate's policies are largely unchanged. We discussed in our report how Telmate gave contradictory answers on the website and from customer service, and unfortunately most of the negative policies remain on the new website: Telmate still only allows refunds under $50 to be paid via a pre-paid phone card for use outside of the facility, and any larger refunds paid via check still are still accompanied by a $10 fee.
Hopefully, the FCC Commissioners will take the practices of these companies into account when they decide to regulate the prison phone industry.
P.S. Doing this follow up research has made us very glad that we published exhibits with screenshots of all of our research. Normally when we write reports, we are content to use dozens or hundreds of footnotes, but screenshots are especially necessary for this project because the websites of the prison phone companies are changing rapidly, and not always for the better. For example, I'm not sure we could have done our tables (8 and 9) about Telmate's strange fee collection practices today. The old Telmate.com website was "[i]ronically…an ideal case study of the importance of fee transparency" because the company made it easy to look up the aggregate charges of the puzzling fees and "taxes" imposed for each facility where it has a contract (even if it didn't offer any explanations for what the fees and "taxes" really are). But the new GettingOut.com website? I don't even know what it contains yet. Now, Telmate requires you to create an account by navigating a marathon series of sign up pages and submitting personal information such as a piece of your social security number and a picture of your driver's license, before you can see what information the company does or does not disclose for any given facility. (Their old website said that some facilities required an account to see the fee information for that facility and so, for the purposes of gathering information for our report, we skipped the handful of facilities were this information was not readily accessible. The new website extends that "requirement" to all facilities.)