New data and analysis from BJS and Columbia University this week show the number of people on probation or parole is edging in the right direction, but states continue to set people up to fail with long supervision terms, onerous restrictions, and constant scrutiny.
by Wendy Sawyer and Wanda Bertram, April 26, 2018
Meek Mill was released on bail from a Pennsylvania prison this week, but like many of the 4.5 million people in the U.S. on probation and parole, he still doesn't feel free. The Philadelphia rapper, whose probation violations landed him back in prison years after serving his original sentence, has brought attention to the problem of community supervision cycling people back into prisons and jails.
Two reports – also published this week – shed new light on the system that has "stalked" Meek Mill for close to a decade. In his analysis of community corrections in Pennsylvania, Columbia Professor Vincent Schiraldi shows how the state's long probation and parole terms give it one of the highest rates of community supervision in the country. Those sentencing practices, along with excessive use of pretrial detention for technical violations, make Pennsylvania a perfect example of how probation and parole contribute to unnecessary incarceration.
Probation and parole widen the net of incarceration by keeping people under onerous restrictions and monitoring instead of focusing squarely on reentry assistance. In states like Pennsylvania, the consequences are clear: Fully half of Philadelphia's jail beds, along with one-third of Pennsylvania's prison beds, are occupied by people charged with parole and probation violations. Incarcerated at great personal cost and public expense, these people are locked up for things as minor as failed drug tests and leaving the county without permission (as Mill was).
Restrictive and long-term supervision doesn't pay off in enhanced public safety. Instead, as Prof. Schiraldi points out, supervision of individuals at low risk of reoffending "actually increases their likelihood of rearrest." Meanwhile, supervision stretches resources that could be more effectively directed at higher-risk cases.
So it's welcome news that probation populations are down nationwide, according to a second report, this one from the Bureau of Justice Statistics. In its annual report on probation and parole, BJS reports that the number of people under any form of community supervision fell by 1.1% in 2016. (The number of people on parole actually increased slightly, meaning that the entire decrease is due to a drop in probation.)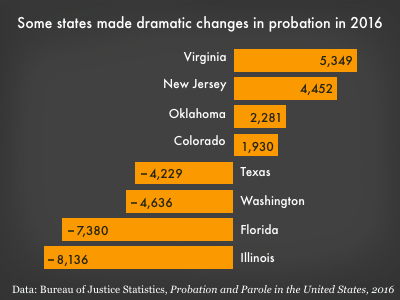 Surprisingly, four states appear to account for half the decrease in probation: Illinois, Florida, Washington, and Texas collectively cut over 24,000 people from probation supervision, more than all other states combined.
But it's important not to read this data too optimistically. Several states added to their probation populations: Virginia added 5,300 (10%) more people to probation, New Jersey added 4,500, Oklahoma added 2,300 (7%), and Colorado and Arkansas each added 1,900. (12 other states added smaller numbers to probation.)
The White House has declared April National Second Chance Month, a time to focus on "opportunities for people with criminal records to earn an honest second chance." Meanwhile, though the number of people on probation and parole is edging in the right direction, states continue to set up millions of people to fail with needlessly long supervision terms, numerous restrictions, and constant scrutiny. With such a high human cost, it's critical that policymakers look for alternatives to incarceration that provide genuine assistance, rather than unnecessarily expanding the criminal justice system's reach.