Welcome, Andrea Fenster!
Please welcome Andrea Fenster, who will join us as the Prison Policy Initiative Staff Attorney!
by Jenny Landon, September 1, 2020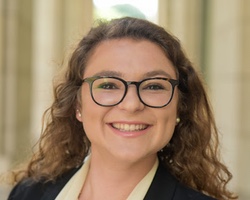 We are excited to welcome Andrea Fenster to the Prison Policy Initiative as a Policy Analyst, who will transition to the Staff Attorney role upon admission to the bar. Andrea is a graduate of Georgetown University Law Center, where she served as a student attorney in the Criminal Defense and Prisoner Advocacy Clinic and a Notes Development Editor for the American Criminal Law Review. Andrea comes to the Prison Policy Initiative with extensive experience in both direct service and impact litigation, and has interned at organizations including the Public Defender Service for the District of Columbia, Equal Justice Under Law, and the Prison Law Office. Andrea holds a B.A. from American University, and is committed to dismantling mass incarceration.
Welcome, Andrea!