Working in "a meat grinder": A research roundup showing prison and jail jobs aren't all that states promise they will be
No wonder prisons and jails face constant understaffing and that communities increasingly resist new facilities: Decades of research show that the physical and mental health problems associated with correctional officers' jobs are inherent to the work, and that new prisons and jails fail to deliver on promises of economic development.
by Prison Policy Initiative, May 9, 2022
As we well know, people incarcerated in jails and prisons experience constant trauma, and are surrounded by brutality and violence that are impossible to escape. This experience has only grown worse in recent months. As we are frequently reminded in media coverage, prison and jail security staff (known as correctional officers or "COs") have been quitting their jobs and failing to show up for work. This turnover and absenteeism leaves incarcerated people locked down in cells, experiencing minimal freedom of movement and social interaction, lost recreation time, difficulties accessing physical and mental health care, worse and less reliable food and mail services, and fewer programming and education opportunities.
But why are departments of corrections throughout the country complaining that they are unable to hire and retain enough staff?
The simplest and most obvious answer is there are way too many people locked up. States could dramatically reduce the need for additional staff by arresting and booking fewer people and releasing more. In European countries (which incarcerate far fewer people), the ratios of incarcerated people to staff are significantly lower than in the United States. As noted in a 2013 press release from the union representing federal workers, the number of federal correctional workers increased 19% from 2000 to 2013, while the federal prison population grew 41%.
But there is another reason prison and jail jobs sit vacant — a problem exacerbated by the pandemic but long predating it. Any way you look at it, working in a prison or jail is traumatic and harmful to mental health. As a result, people have always quit these jobs at high rates. Nearly 40 years ago, in 1983, a paper warned that "officer stress and burn-out has led to soaring organizational costs due to high rates of absenteeism and turnover." In 2000, the average national turnover rate among COs was 16% (meaning the number of people quitting was 16% of the average CO headcount that year), a rate one author called "alarmingly high." And a 2010 report found that the average CO turnover rate was 17% in 2006 and 2007, and 16% in 2008.
Today, as prisons and jails have become vectors of COVID-19, turnover rates have grown higher than ever.1 But as this briefing shows, long before COVID, corrections work meant being surrounded by trauma and suffering, while working stressful jobs that are both monotonous and require constant vigilance.
Of course, much of the violence behind bars is perpetrated by COs themselves; we know that staff often assault and abuse incarcerated people; encourage, bribe and threaten incarcerated people to abuse others; and watch without intervening when violence breaks out. In fact, Micol Seigel proposes in her book that prison workers — along with police, members of the military, and others employed in security or detention — can collectively be considered "violence workers," as their roles are designed to exercise the state's power to use violence for enforcement. Violence in correctional facilities is further exacerbated by stressful, miserable living conditions. But while this violence harms incarcerated people the most, it has life-altering consequences for workers as well. As a result, COs face negative mental and physical health outcomes, including extremely high rates of depression and PTSD. Worst of all, for many COs, the job fundamentally changes the way they relate to others, requiring them to dehumanize the people they supervise and cultivate a brutal authority that is hard to shake even at home.
This creates a vicious cycle. Correctional jobs are stressful and traumatic, leading to high rates of burnout, absenteeism, and staff turnover. But when people quit or don't show up for work, this makes the job even worse for their colleagues, who are often left working overtime shifts2 alongside new, inexperienced coworkers.3
While the trauma and stress faced by incarcerated people dwarfs the experiences of correctional officers, it is important to study the frequently overlooked ways that prisons and jails harm everyone associated with them.
This is particularly crucial because, for years, state and local governments have used the promise of these "good state jobs" to garner support for newer, bigger prisons. For decades, rural towns looked to prisons as a saving grace that would bring economic development, boost local populations, and most of all, replace disappearing jobs. As that prison-building boom cools, now we are seeing pressure to build new, expanded county and city jails. But when officials promote prisons and jails as job creators, it is important to keep in mind what these jobs actually look like, and the effects they have on workers and the community.
To be clear, the problems outlined throughout this article are fundamental to the nature and environment of working in a prison or jail. These problems cannot be solved by increasing budgets, doubling down on hiring efforts, providing additional training, or increasing pay and benefits.
Exposure to trauma is inescapable on the job
Although incidents of violence behind bars are poorly tracked and reported, every count we do have shows that those who spend time in prisons and jails (staff and incarcerated people alike) are surrounded by traumatizing violence:
Estimating the prevalence of violence in prisons and jails
Reported incidents and estimates
Indicator of violence
State prisons
Federal prisons
County jails
Source
Deaths by suicide in correctional facility
311 deaths in 2019
29 deaths in 2019
355 deaths in 2019
Mortality in State and Federal Prisons, 2001-2019; Mortality in Local Jails, 2000-2019
Deaths by homicide in correctional facility
143 deaths in 2019
11 deaths in 2019
25 deaths in 2019
"Intentionally injured" by staff or other incarcerated person since admission to prison
14.8% of incarcerated people in 2004
8.3% of incarcerated people in 2004
Survey of Inmates in State and Federal Correctional Facilities, 2004
"Staff-on-inmate assaults"
21% of incarcerated men were assaulted by staff over 6 months in 2005
Wolff & Shi, 2010
"Prisoner-on-prisoner assaults"
46,442 assaults from July 1, 2018 to June 30, 2019
Census of State and Federal Adult Correctional Facilities, 2019
Incidents of sexual victimization of incarcerated people (perpetrated by either staff or incarcerated people)
State-operated prisons: 16,448 reported incidents in 2018
BOP-operated prisons: 922 reported incidents in 2018
8,651 reported incidents in 2018
Survey of Sexual Victimization in Adult Correctional Facilities, 2012-2018
Private prisons: 1,514 reported incidents in 2018
Other adult facilities (i.e., military prisons, ICE facilities, and jails on tribal lands that hold only adults): 219 reported incidents in 2018
A 2021 paper analyzing the experiences of 156 correctional supervisors in a northeastern U.S. state revealed that large percentages witnessed or experienced the following traumatic events in a typical month:
55% – a suicide attempt by an incarcerated person
93% – violence inflicted by one incarcerated person on another
And in a typical year, many reported witnessing or experiencing:
61% – suicide of an incarcerated person
65% – non-suicide death of an incarcerated person
45% – a coworker suicide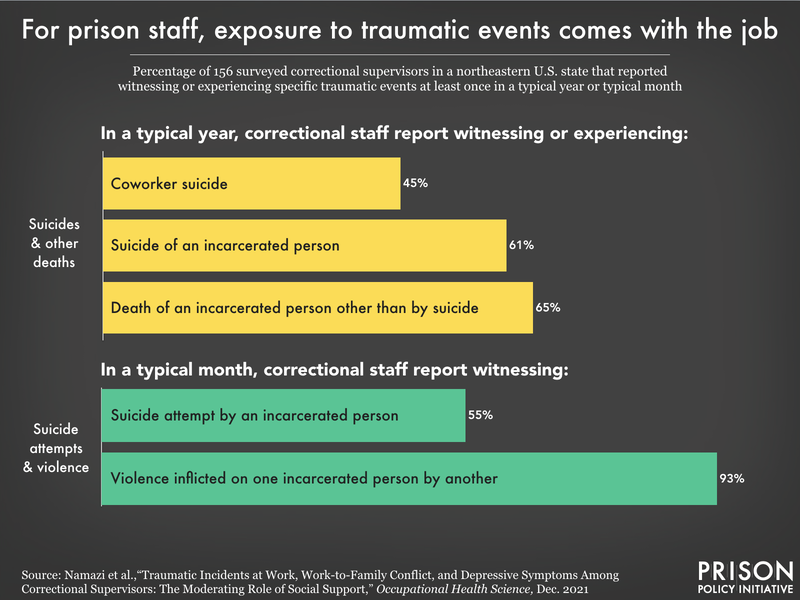 Similarly, a team of researchers have published a series of papers based on surveys of Canadian workers in high-stress occupations. They found that institutional corrections workers report high rates of exposure to various traumatic events. For example:
45% had witnessed a death in line of duty
78% experienced or witnessed serious injuries in the line of duty
69% experienced or witnessed incidents that seriously threatened their life or the life of a colleague
65% witnessed or learned about the suicide of a close colleague or superior
A correctional officer from Oregon described this on-the-job trauma in a 2015 article in the Guardian: "You're doing tier count and you're watching a human being die in front of your eyes because he's coughing up lungs and screaming with his eyes for help and there's nothing you can do." The man's son, also a CO, recalled that on his first day of work, he witnessed the mutilated body of a man who had been beaten to death.
Correctional officers have high rates of depression, PTSD, and suicide
It is not surprising that many COs struggle with the mental and emotional toll of regular exposure to trauma. A 2021 analysis of thousands of anonymous surveys filled out by COs in California prisons revealed that, among those who answered specific questions about the prior month:
48% had felt anxious, nervous, or on edge
80% felt tired or fatigued, even right after sleeping
28% consumed six or more drinks on at least one occasion
28% felt down, depressed, or hopeless
4% experienced repeated, disturbing memories
11% had suicidal thoughts or had attempted suicide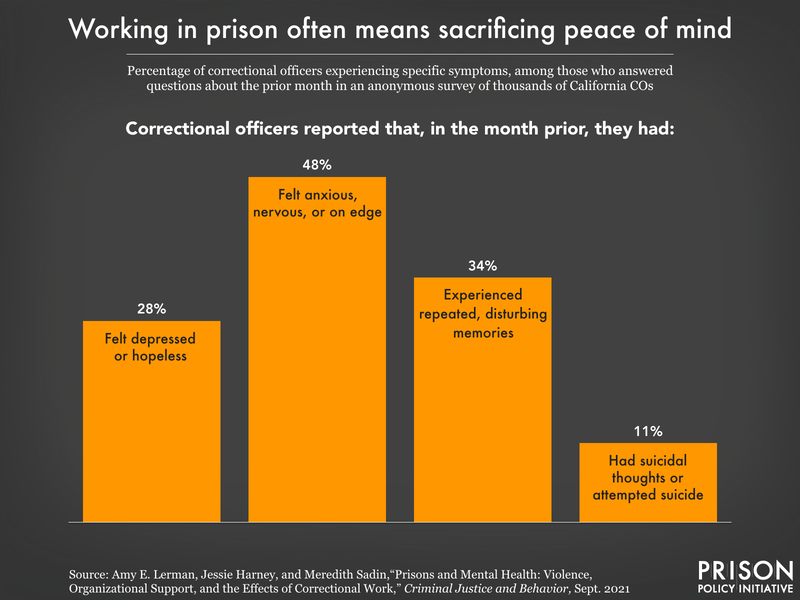 A 2018 survey of corrections employees in Washington State estimated a PTSD rate of 19%, which is similar to rates among veterans of the Iraq and Afghanistan wars, and higher than that of police officers.
Several studies put the rate of PTSD even higher. A 2013 study of nearly 3,600 corrections professionals from all over the country estimated that 34% of correctional staff in security roles have PTSD and 31% have depression. A 2016 paper studying correctional officers in Michigan estimated that 34% of participants had PTSD, 36% had depression, and 25% had both. Rates of both — as well as the risk of suicide — were higher among people working in high-security units, and among those who had worked in corrections for 10 years or more, indicating that these problems do not get easier with time or experience. And a 2017 Canadian study (again, using the pool of high-stress workers mentioned above) found that more than 54% of correctional workers screened positive for mental disorders including PTSD (29%) and major depressive disorder (31%), compared to a baseline diagnosis rate of 10% of the Canadian population.
Although there are not many studies on correctional officer suicides, one analysis found that COs in New Jersey had more than double the suicide rate of 25-to-64 year old men in the state from 2003 to 2007. A 2016 article tracking CO suicides in Massachusetts found the suicide rate to be about six times that of the general state population. An earlier study from 1997 found that COs have a 39% higher rate of suicide than the rest of the working age population. And the survey of Canadian correctional workers revealed that 35% had experienced suicidal ideation in their lifetimes (including 11% in the prior year), and 8% had previously attempted suicide.
This relentless stress inevitably leads to burnout, which is often associated with workers in healthcare, human services, and education, and is characterized by emotional exhaustion, depersonalization, and a sense of a lack of personal accomplishments. Burnout can lead to depression, and can cause someone to withdraw emotionally, psychologically, and socially from their job. A 2020 Swiss study found that — although violence is infrequent in Swiss prisons — COs who did witness or directly experience violence had more exhaustion and a decreased sense of security, which in turn, led to higher levels of burnout. The paper concluded that "not only serious major incidents, but also the daily grind have an effect."
A 2013 literature review, which provides a collection of research on the topic, concluded that the implications of stress and burnout are far-reaching:
Workplace stress and burnout among COs can lead to unsafe correctional facilities, high turnover rates, high absenteeism, lower productivity and decreased effectiveness in the workplace as well as negative personal and social outcomes like decreased life satisfaction and work-family conflict.
In fact, a 2014 paper for the National Institute of Corrections proposed a diagnostic category called "corrections fatigue," which can have implications including "negative personality changes, socially dysfunctional thinking/ideology, and forms of declined health and functioning." Those researchers further estimated that 20% of correctional officers experience corrections fatigue.
These consistent findings of rampant PTSD and depression among COs are remarkably similar to studies of incarcerated people. Research among incarcerated populations have found rates of PTSD at 48%. And much like corrections fatigue, researchers have identified "post-incarceration syndrome," a subset of PTSD. In-depth interviews with 25 people who were incarcerated an average of 19 years revealed a "specific cluster of mental health symptoms," including institutionalized personality traits, social-sensory disorientation, and alienation. These high rates among both prison staff and incarcerated individuals indicate that prisons themselves are unhealthy, dangerous spaces that contribute to serious and lasting mental health problems.
COs experience chronic pain and hypertension, and are exposed to illness and violence
Corrections work can take a physical toll as well. Nearly half (45%) of the surveyed correctional workers in Canada reported experiencing chronic pain, with lower back pain the most common complaint. Correctional officers are also disproportionately exposed to infectious diseases: The Covid Prison Project has tracked 277 deaths of correctional staff due to COVID-19, as of March 2022. (Of course, prison staff have contributed greatly to the spread of COVID behind bars: Throughout the country, staff vaccination rates lag far behind vaccination rates of incarcerated people, and many states failed to require staff to wear masks at the height of the pandemic.)
The stressful nature of the job brings other physical drawbacks. A 1983 study found that correctional officers had higher rates of hypertension (high blood pressure) and heart disease than the general population, both of which are linked to stress. And a 2015 study found extremely high baseline levels of hypertension and pre-hypertension among correctional officers. While hypertension usually shows up later in life, the study revealed high rates among COs ages 20 to 34 and 35 to 44.4
While estimates vary regarding the percentage of COs who are victims of violence on the job, it is clear that working in a prison comes with an increased risk of violence. The Bureau of Justice Statistics (BJS), for example, found that from 2005 to 2009, 33 out of every 1,000 COs reported experiencing workplace violence (defined as rape/sexual assault, robbery, and aggravated and simple assault).5 Compared to other professions in the study, this rate is lower only than bartenders, police officers, and security guards.6
Of course, when considering data on this type of violence, it is important to remember that it is self-reported by correctional officers, making it impossible to know what role they or their colleagues might have played in the reported incidents. COs are incentivized to report every possible incident as an assault, as a way of justifying budget and salary increases.
And it is clear that the constant fear of violence further adds to stress and negative mental health outcomes, and can contribute to job performance and turnover rates.7 In this way, too, COs' risk of violence mirrors the experiences of incarcerated people.8
Prisons — no matter how modern — are depressing work environments
Back in 1982, a review of the stresses of prison work stated the obvious:
Any organization or social structure which consists of one group of people kept inside who do not want to be there and the other group who are there to make sure they stay in will be an organization under stress.
Investigative reporter Shane Bauer described corrections work in a similar way. In 2016, Bauer (who was previously incarcerated for two years in an Iranian prison), spent four months undercover as a CO in Winn Correctional Center, a private state prison in Louisiana. He later said of corrections officers, in his experience:
Most of them, when they go in, they want to treat prisoners well. But then you have to face the fact that you're doing something that is not really within your normal realm of what it means to be a decent human being.
Multiple papers have noted that certain stressors are built into the corrections model, and are sometimes called "occupational" or "work-related." As the author of an expansive 2013 literature review on wellness and safety among COs explains, much of the job of a correctional officer is boring and repetitive, yet the constant risk of violence and other incidents requires "hyper-vigilance, boundary setting and self-control. The constant state of alertness can be taxing both physically and psychologically."
"We put on our armour. When you walk through the first gate, it clicks. And so does your back," another former correctional officer from Oregon told the Guardian. He compared the job to being in a pressure cooker.
On top of the inherently stressful work environment, corrections jobs do not tend to open the door to desirable work in other industries. While former COs may go on to work in law enforcement or private security, these career paths are two of just three identified by the BJS as having higher exposure to workplace violence than corrections. Low wages are also often cited as a drawback of the job.
According to one Canadian corrections officer, who responded to a survey's open-ended question about the job:
Corrections are a very mentally and physically demanding career that is very difficult to understand. Being keepers of people has demands that should not be misunderstood. This career is a meat grinder.
And in a white paper on correctional wellness titled "I Am Not Okay," published by One Voice, the authors (who are correctional officers) described the reasons people go into corrections:
During childhood, kids regularly invent games where they imagine what they will be when they grow up. Many pretend to be police officers, nurses, doctors, lawyers, firefighters, or teachers. How many kids in the neighborhood grew up locking their friends in the basement because they wanted to be a correctional officer? How many seniors in the high school yearbook listed "correctional officer" as a career aspiration? Almost no one does that. No one wants to go to prison, even if they have the keys…

Some choose this path because they see it as an opportunity to help people "correct" their wrongdoings and come out better, but those for whom this was their motivation quickly find out that it's not really an option, because the current system was not designed with this in mind.
But the correctional work environment is worse than it has to be
While some stressors of the job are inherent to the nature of locking people up, others stem from the way prisons are run in the United States. Sometimes called "organizational" or "institution-related" stressors, they contribute to stress and burnout, and can include:
Low autonomy/ no input into decision making
Unpredictable shift work
Overtime demands
Lack of support from or trust in supervisory staff
Inadequate benefits and resources
Inadequate training
Other significant "institution-related" stressors are role conflict and role ambiguity. Role conflict reflects fluctuating expectations over whether prisons are for punishment or rehabilitation. Role ambiguity is the uncertainty created when supervisors instruct COs to go "by the book," even though it is clear to everyone that the role requires flexibility — and that the culture surrounding prison work encourages staff to carry out violent, informal sanctions that aren't in any rulebook. As one paper described role ambiguity:
While officers work in a paramilitary organization marked by explicit lines of authority and a host of formal regulations, their task of managing inmates demands flexibility, the judicious application of discretionary justice, and the ability to secure inmate compliance through informal exchanges which deviate from written rules… Ambiguous and conflicting expectations are a likely result and a potential source of stress.
What's more, negative experiences in prison may be exacerbated by the machismo culture in corrections. The 2013 literature review notes that, "like police officers, COs have subcultural taboos regarding the acknowledgement of a need for medical or psychological assistance, as such admissions are perceived as a sign of weakness."
Bringing the problems home
Many correctional officers struggle to leave the job behind at the end of a shift, which is described by psychologists as "dual role conflict." People often bring home the violence, hypervigilance, and command culture they experience all day, importing violence into their homes and communities. As the 2013 literature review explains:
It can be difficult for a CO to override innate and acquired characteristics that are considered functional and professional in the workplace, but are not effective at home or in their personal lives… For example, conflict can occur at home when excessive job stress causes a CO to displace frustration onto spouses and children, ordering family members in the same way he or she issues commands to inmates.
The review further notes that family conflict can be exacerbated by other features of the job, such as "cynicism, pessimism, sarcasm, flattened drama/stress response, and exposure to trauma and other disturbing behaviors." All of this can lead to withdrawal and isolation at home.
A 2021 study of 156 correctional supervisors found correlations between exposure to traumatic incidents on the job and work-family conflict. And a 2013 paper included first-person accounts from Canadian correctional officers describing the effects the job has on them. As one CO explained it:
Prison staff learn to apply a thin layer of 'Machismo' as a result of each incident they respond to. It's like a Band-Aid… It covers and seals in your emotions and your feelings; otherwise you're weak, a punk, or a sissy… The only problem is the Band-Aids don't come off after work. They stay on. So you live your life and miss all the beauty and the real experiences because you are a heartless, emotionally numb, and desensitized a__. You see an awful car accident with injuries, big deal. You have a friend that gets hurt really bad, big deal. Your family member dies in his fifties and you truly love the man, big deal. An inmate gets stabbed 47 times, big deal. You get mad because your kid wrecks his bike and cries because he skinned up his knees, big deal. Tell him to man-up and quit being a baby and walk away.
Shane Bauer, the undercover journalist, described how his personality changed as he worked in a prison:
It is getting in my blood… When I drive home, I wonder who I am becoming. I feel ashamed of my lack of self-control, my growing thirst for punishment and vengeance. I'm getting afraid of the expanding distance between the person I am at home and the one behind the wire. My glass of wine with dinner regularly becomes three. I hear the sounds of Ash unit as I fall asleep. I dream of monsters and men behind bars.
This can lead to dire outcomes. A 2011 study found that work-family conflict can contribute to depression among COs. And in a 2012 survey of 710 correctional officers in Florida, 33% reported they had heard of at least one correctional officer who committed unreported domestic violence.
Nurses, teachers, and other corrections workers face similar challenges
Although there is little research into the experiences of correctional nurses, teachers, and case managers, the little we know suggests that COs are not the only ones experiencing stress and trauma.
A 2019 exploratory study from the United Kingdom found that 57% of participating correctional mental health nurses had listened to people express thoughts of suicide and self-harm more than 30 times. Most had witnessed self-harm or attempted suicide.
Repeated exposure to this type of trauma can build up, just as it can for COs. "Vicarious" or "secondary" trauma can occur in people who are exposed to disturbing images and stories second-hand, and can have similar symptoms to PTSD. A 2019 study from Australia found that 87% of participating health staff at correctional centers experience high or moderate levels of vicarious trauma. Similarly, a 2011 study of educators in youth facilities found that 81% met at least one, 55% met two, and 39% met all three core diagnostic criteria for PTSD.
A 2006 study of workers in two unnamed midwestern prisons found even higher rates of burnout among case workers than correctional officers. And while little research exists on the physical health impact of this work, a study of correctional nurses found that 56% had short sleep duration and 32% had poor sleep quality.
Communities and counties should not seek new prisons and jails as job boosters
The overwhelming evidence shows that correctional work is stressful and traumatic. But for decades, rural communities throughout the country were persuaded to compete for prison contracts, and are now stuck with these jobs.
Not only are individual prison jobs difficult, but prisons as a whole have failed to revitalize the towns where they are built. In a 2002 report, Tracy Huling concluded that "increasing evidence suggests that by many measures prisons do not produce economic growth for local economies and can, over the long term, have detrimental effects on the social fabric and environment of rural communities."
First, Huling noted that prisons often don't hire locals. She cited Ruth Wilson Gilmore's Golden Gulag, which includes a study of prison towns in California that showed that, on average, less than 20% of jobs in new state prisons went to current residents of the local town. Looking specifically at Corcoran, Calif., which housed two prisons, Gilmore further found that just 40% of the people working at those prisons lived within a 75 mile radius of the town. This happens in part because prison systems tend to promote from within.
Prisons can have other negative effects on a town's economy. Citing work by economist Thomas Johnson, Huling noted that they generate few "linkages to the economy." Unlike an auto plant, which might lead to the creation of new delivery companies, radio assemblers, and electronic harness makers, prisons do not attract new, related industries to the area. What's more, prisons tend to attract chain stores, creating a "replacement" effect where locally-owned businesses lose out to the incoming McDonalds and Walmarts. Prison labor carried out by incarcerated people for the municipality or for private industry — which is already exploitative — can also displace local workers.
Too late, communities may find that, with all the small businesses gone, they have become dependent on their prisons — meaning that when states occasionally shutter prisons today, the news can be met with disappointment and fear.
Since Huling's report, the literature continues to back her up. A 2008 literature review concluded:
"The 1990's location of prisons in rural areas was based on a high dose of economic development hype and the hopes and expectations of local elected representatives, business and community leaders who believed state prisons were a 'gold plated' solution to their economic problems… Once more comprehensive and rigorous impact studies did emerge, they demonstrated that many of the apparent benefits of rural prison location for local communities were invalid."
A 2010 study lead authored by Gregory Hooks similarly found that prison construction "impedes economic growth in rural counties." Three Kentucky counties remain among the poorest in the nation after becoming home to federal prisons. And in 2016, an analysis of 25 years of prison building in Appalachia found "little evidence to support the claim that prisons are engines of growth," and warned: "policymakers would be well served using great caution before pursuing this development pathway."
Today, the prison-building boom has slowed, and county jails have become the new frontier of carceral expansion. From 2013 to 2019, jail populations grew 27% in rural areas and 7% in small-to-midsize cities, prompting many counties to build newer and bigger jails. In some states, this growth is accelerated by policies in which the state departments of corrections pay counties a per diem to house people serving state sentences. In Kentucky, for example, "at the same time that coal revenues dried up, the state's criminal justice policies subsidized and incentivized the expansion of carceral capacity at the county level," explain Jack Norton and Judah Schept. But, like the prison boom jobs before them, jobs in these new, expanded jails should not be desirable to individual workers or communities.
Prisons bring trauma into communities — for the people locked up in them, of course, but for those employed there as well. There are other ways to create better, safer jobs for people in rural communities. In particular, states have the power to create different kinds of jobs — such as jobs in mental health services, youth programming, or health care — that simultaneously help others stay out of jail and prison in the first place.