May 23, 2023
As we explained in a report earlier this month, every U.S. state punishes far more people than is remotely necessary, not just with long prison terms but with long stints on probation and parole. 42% of prison admissions nationwide are for violations of supervision, meaning that these supposed "alternatives" to mass incarceration are major drivers of the system.
While radical reforms to probation and parole are warranted, a handful of modest reforms have the potential to quickly shrink the number of people under supervision and even to release significant numbers of people from incarceration. This morning, the Prison Policy Initiative and the Katal Center for Equity, Health and Justice released a report called Excessive, Unjust, and Expensive: Fixing Connecticut's Probation and Parole Problems that lays out this winnable, high-impact reform package — one that could be replicated in many other states.
We published this report to support advocates on the ground in Connecticut who, at this moment, are pushing lawmakers to implement a reform package that could make the state's parole and probation systems significantly fairer. Advocates working to implement similar reforms in other states may find our report helpful as they marshal arguments in support of change.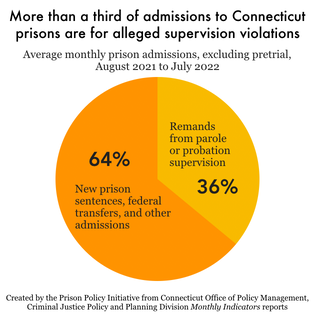 Our report recommends that states — like Connecticut — that want to implement these reforms take the following steps:
Restrict the use of incarceration as a punishment for technical violations of probation and parole. In Connecticut, as in most states, hundreds of people behind bars are serving time for noncriminal acts that happened to violate one of the (often burdensome) conditions of their supervision. The authors find that Connecticut's probation system imposes up to 17 different rules on supervisees, making it difficult to impossible to avoid slipping up. Incarcerating so many people for noncriminal behaviors is not just draconian; it's also expensive, costing taxpayers about $1,200 per week per person.
Replace automatic incarceration for alleged violations with a written notice to appear in court. Correctional facilities are full not only of people serving time for supervision violations, but people accused of such violations, who frequently end up behind bars for weeks as they await hearings. The new report explains that of the 100 people on parole locked up every month for alleged parole violations, many are likely put there for no good reason at all: Approximately 1/3 ultimately have their parole reinstated with no finding of wrongdoing. The authors estimate that reforming this draconian system — by serving people accused of violations a notice to appear in court, rather than throwing them behind bars — would lead to at least 6,000 fewer people being arrested over the next 2 years.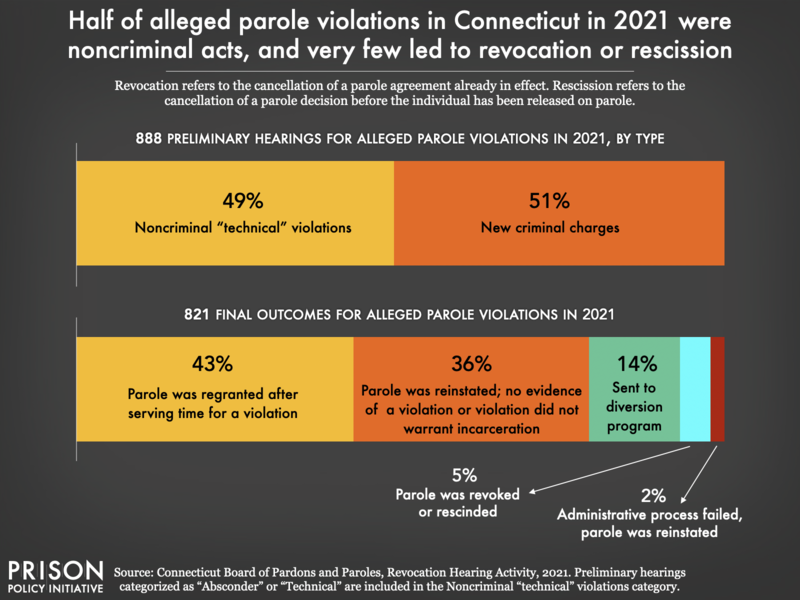 Apply earned-time credit to supervision sentences. At least nine states currently allow people on probation and/or parole to shorten their supervision sentences by demonstrating good behavior, but Connecticut has no such system. "Earned time" incentivizes success under supervision and reduces caseloads, allowing probation and parole staff to focus on people who have the greatest needs. In Connecticut, the authors find that implementing an earned-time system similar to New York's, and allocating time credits to people currently on supervision retroactively, would get thousands of people off of supervision immediately.
Bolster due process. In Connecticut — and across the country — many people charged with probation or parole violations are unaware of and do not exercise their rights. Those include, in Connecticut, the right to a lawyer at parole and probation revocation hearings and the right to a preliminary hearing (a court appearance in which someone can dispute a parole officer's decision to detain them). In fact, in an observation of 49 parole revocation hearings in Connecticut in 2015, zero defendants appeared with state-provided counsel. Without knowledge of their rights, people are more likely to have their probation or parole revoked and end up behind bars. The report urges Connecticut to communicate and protect defendants' right to counsel and preliminary hearings, to speed up the process between someone's preliminary hearing and their disposition, and to guarantee that hearings take place in a neutral, public location (rather than a jail).
The report also includes a section explaining the significant benefits New York State has seen from implementing similar reforms through its Less Is More Act, illustrating the potential gains for other states considering reforms:
In just the first few months after its enactment, Less Is More led to nearly 2,000 people on parole who had been incarcerated for noncriminal technical violations being released from jails and prisons.
New York was able to close six state prisons in 2021, partly because lawmakers (accurately) anticipated a drop in incarceration due to fewer people being incarcerated for technical violations.
In less than two years, Less Is More cut the state parole population by 40% by allowing people on supervision who had followed the rules to earn time credits that led to their discharge.
All too often, the report explains, people on probation or parole have their lives disrupted by allegations of misbehavior, leading to lost jobs, lost housing, and broken or strained family ties. Many of these individuals should not have even been under supervision in the first place. And because incarceration is expensive, taxpayers are paying a heavy price for a system that doles out punishment much more than it offers support. Excessive, Unjust and Expensive lays out a path to reining in these draconian and costly aspects of supervision, proposing policies that could immediately impact thousands of people in Connecticut — or virtually any other state.
The full report is available at: https://www.prisonpolicy.org/reports/ct_supervision.html