Section III: The Prison Economy
The Prison Industry
Number of correctional facilities, 1995

438

:

1500

Cost to run the prisons and jails in all 50 states and the federal prison system, 1999

439

:

$49 billion

Average cost to incarcerate a prisoner for a year, 1996

440

:

$20,142

Average cost to incarcerate a prisoner per day, 1996

441

:

$55.18

Prison expenditure per prisoner per day in Alabama, 1996

442

:

$21.88

Prison expenditure per prisoner per day in Minnesota, 1996

443

:

$103.63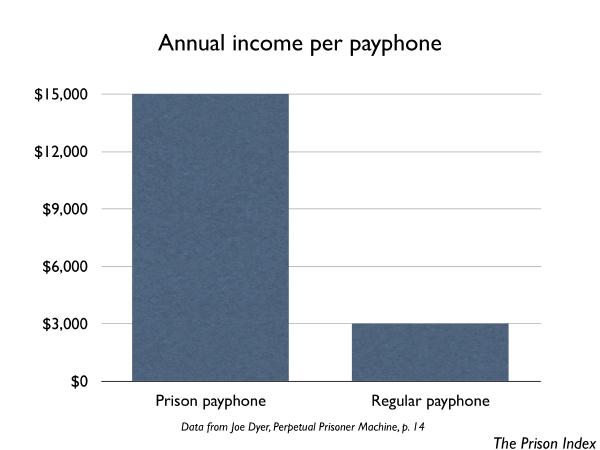 Captive consumers
Value of 1995 Dial Soap contract with the New York City jail system

444

:

$100,000

Value of VitaPro meat substitute contract with the state of Texas

445

:

$34 million

Value of annual market selling collect phone calls to prisoners and their families

446

:

$1 billion

Income from one prison payphone per year

447

:

$15,000

Income from average payphone per year outside of a prison

448

:

$3,000
Employment
Percent of civilian labor force unemployed, United States, 2000

449

:

4.0%

Percent of civilian labor force unemployed, if prisoners were not in prison but unemployed:

450

5.3%
Estimated percent of civilian labor force that is in prison, or works in corrections, private security, or in the portions of the police and courts related to crime control

451

:

3.9%

Percent of civilian labor force that works in farming, forestry or fishing, 2000

452

:

2.4%
Average starting salary for a correctional officer in 2001

453

:

$23,627

Starting salary for a correctional officer in New Jersey, 2001

454

:

$36,850

Starting salary for a correctional officer in Oklahoma, 2001

455

:

$16,672
Starting salary for a correctional officer in New Mexico, 2001

456

:

$15,943

Poverty line for a family of four, 1999

457

:

$17,029

Approximate percentage of positions open in the Oklahoma Department of Corrections

458

:

20%
Construction
Number of new prisons opened in the United States, 2000

459

:

24

Number of beds in new prisons opened in the United States, 2000

460

:

18,526

Number of beds added to prisons renovated in the United States, 2000

461

:

10,243

Number of new prisons under construction on January 1, 2001

462

:

39

Number of existing prisons undergoing renovations or additions on January 1, 2001

463

:

62

Number of beds to be added by prison construction or additions underway on January 1, 2001

464

:

58,422
Where are prisons built?
Percentage of prisons built in rural counties

465

:

60%

Percentage of population that lives in rural counties

466

:

20%

Average number of new prisons built in rural areas, per year, in the 1960s and 1970s

467

:

4

Average number of new prisons built in rural areas, per year, in the 1980s

468

:

16

Average number of new prisons built in rural areas, per year, in the 1990s

469

:

25

Average number of days between new prisons opening in a rural area in the 1990s

470

:

15

On average, percent of jobs in a new prison that go to residents outside the town where the prison is built

471

:

80%

Number of jobs created by a new prison in Malone, NY

472

:

750

Due to Department of Correctional Services seniority rules, less than this number of jobs went to Malone residents

473

:

100
California's Prison Economy
Number of prisoners in California, 2001

474

:

159,444

Number of prisons built, 1984-1994

475

:

21

Average Correctional officer salary, 1996

476

:

$44,000

Average public school teacher salary, 1996

477

:

$34,000

Rank of the California Correctional Peace Officers Association (CCPOA), the union representing prison guards, among contributors to California political campaigns

478

:

1

Amount spent by CCPOA to pass the 3 strikes law, requiring life sentences for 3rd time felony offenders

479

:

$101,000

Amount spent by the CCPOA to elect Governor Davis in 1998

480

:

$2 million

Number of disease outbreaks affecting prison workers in the first four months of 2002 known to the CCPOA and Department of Corrections

481

:

0

Percent increase in guards calling in sick in the four months after Governor Davis approved a new labor agreement with the guard union restricting wardens from disciplining officers who abuse the process of calling in sick

482

:

20%

Percent increase in sick time during the same period at the California Highway Patrol

483

:

1%

Increase in cost of overtime to cover for sick officers during those 4 months, in dollars

484

:

$58.4 million

Percent rise in prison guards' pay over 5 years in the new contract

485

:

34%

Cost to the state of the new raises, in dollars

486

:

$680 million

Projected California budget shortfall, in dollars

487

:

$24 billion

Months between Gov. Davis' signature on legislation implementing the new contract and his re-election campaign's receipt of $251,000 in contributions from the California Correctional Peace Officer's Association

488

:

2
This page is an excerpt from The Prison Index: Taking the Pulse of the Crime Control Industry (April 2003) by Peter Wagner, published by the Western Prison Project and the Prison Policy Initiative.
Footnotes