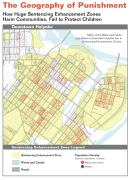 The Geography of Punishment:
How Huge Sentencing Enhancement Zones Harm Communities, Fail to Protect Children
by Aleks Kajstura, Peter Wagner, and William Goldberg
Prison Policy Initiative
July 2008
Section:
About the authors
Aleks Kajstura will graduate from the Benjamin N. Cardozo School of Law in May 2008.
Peter Wagner is an attorney and Executive Director of the Prison Policy Initiative. Since 2002, he has been working to quantify the impact of, publicize, and reform the Census Bureau's practice of counting the nation's predominantly urban prisoners as if they were residents of the nation's mostly rural prison towns. His publications include Importing Constituents: Prisoners and Political Clout in New York (2002), Jim Crow in Massachusetts? Prisoner Disenfranchisement (2004) and, with Eric Lotke, Prisoners of the Census: Electoral and Financial Consequences of Counting Prisoners Where They Go, Not Where They Come From (2004).
William Goldberg is a student at Smith College.
About the Prison Policy Initiative
The Easthampton, Massachusetts-based non-profit, non-partisan Prison Policy Initiative documents the impact of mass incarceration on individuals, communities, and the national welfare. We produce accessible and innovative research to empower the public to participate in creating better criminal justice policy.