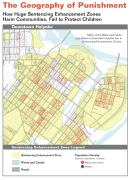 The Geography of Punishment:
How Huge Sentencing Enhancement Zones Harm Communities, Fail to Protect Children
by Aleks Kajstura, Peter Wagner, and William Goldberg
Prison Policy Initiative
July 2008
Section:
Acknowledgments
This report was produced with the support of a generous research and advocacy grant from the Poverty and Race Research Action Council in Washington D.C. Aleks Kajstura's work on the project was supported by the Cardozo Public Interest Summer Stipend Program at the Benjamin N. Cardozo School of Law and William Goldberg's work was supported by the Smith College PRAXIS program.
We are indebted to the researchers who have gone before us and who generously shared their time and experience with us: William Brownsberger, Judy Greene, Kevin Pranis and Jason Ziedenberg. We are grateful for the help of consultant Dennis McGinnis, who designed our photo illustrations of the 1,000-foot distance, Adell Donaghue who designed our report cover, and Jordan Miner who made our larger maps interactive. The task of mapping schools in this project was greatly reduced thanks to the generosity of the City of Holyoke Planning Department and the West Springfield GIS department, who shared their property databases with us. Attorneys Deborah Roberge, Rebecca Young and Michael Fellows offered us extremely helpful advice and inspiration. Theresa Perrone helped us develop the necessary GIS methodology for the project and David Pepyne and Thomas Teich helped to plan our images. Prison Policy Initiative law clerks Brett Blank and John Hejduk helped with last-minute report preparations, and Laura Sager, Monica Pratt Raffanel and Jason Ziedenberg helped with disseminating the report. We thank the Massachusetts Sentencing Commission for its help identifying available data and Vermont Representative Maxine Grad for explaining the history of the Vermont statute. The support of these individuals and organizations was invaluable. Any errors that remain are solely those of the authors.