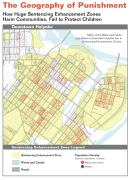 The Geography of Punishment:
How Huge Sentencing Enhancement Zones Harm Communities, Fail to Protect Children
by Aleks Kajstura, Peter Wagner, and William Goldberg
Prison Policy Initiative
July 2008
Section:
Failing to protect children, harming communities
When the Massachusetts legislature passed the sentencing enhancement law in 1989 and expanded it in 1993 and 1998, it did so in pursuit of the valuable goal of keeping drugs away from children. But good intentions alone do not make good law, and the law's fundamental assumptions shows that legislators built something that was more comforting than effective.
Missing the mark on children's involvement with drugs
It is likely that legislators assumed that the 1,000-foot distance was small enough that any person selling within it intended to sell to children. Our experiment demonstrates that a 1,000-foot distance is so large that one person may not even be able to effectively communicate with another. Furthermore, according to the 2004 National Survey on Drug Use and Health, a survey conducted by the federal government, children who use drugs most frequently use marijuana, and most often obtain it from friends, not strangers.
Massachusetts does not publish data on whether children are present in zone offenses, but other studies suggest that children are present in few cases, if any. William Brownsberger's study on drug dealing cases in Fall River, New Bedford and Springfield found that less than 1 percent involved charges of dealing to minors or using minors in sales.here. " class="footnotereference">[15] He told the Boston Globe that "[i]n no cases did we have the classic picture of the pushers standing on the corner offering 5th graders their first introduction to drugs."
Failing to move drug dealers away from schools
If enhancement zone laws effectively deterred drug dealers from selling drugs inside the zones, one would expect to find drug dealers immediately outside the zones' borders, because dealers would move just enough to avoid the enhanced penalty charge. Research in Massachusetts and New Jersey shows no evidence of such movement. The New Jersey Commission to Review Criminal Sentencing found that less than 9% of drug arrests are made between 1,000 and 1,200 feet from schools.here." class="footnotereference">[17] Brownsberger's Massachusetts study found that drug dealing was denser inside school zones than outside them.here." class="footnotereference">[18] The New Jersey Commission, examining arrests near schools before and after the legislation's passage, came to a similar conclusion: instead of dropping as offenders were deterred, the general trend of arrests inside the zones was "strongly upward." Both the New Jersey Commission and Brownsberger concluded that the 1,000-foot distance is the cause of the law's failure to move drug dealers away from schools and suggested reducing the zones to a more easily recognizable distance of about 200 feet.here and REPORT ON NEW JERSEY'S DRUG FREE ZONE CRIMES & PROPOSAL FOR REFORM 29 (The New Jersey Commission to Review Criminal Sentencing) 2006, available here. " class="footnotereference">[20]
Though it fails to move drug offenders away from schools, the statute's mandatory minimum is often used to expedite guilty pleas from those who commit low-level drug offenses. While simple possession does not trigger the zone enhancement, the law applies to both drug dealing and "possession with intent to distribute," which the statutes do not explicitly define. Prosecutors, then, have a great deal of latitude to argue that drug users intend to sell recently-purchased drugs. This flexibility has resulted in an alarming racial disparity: a Northeastern University study of drug charges in the Dorchester District Court found that minority defendants were four times as likely to be charged with drug dealing as White defendants.
Prosecutors have an incentive to pursue drug possession cases as "possession with intent to distribute" cases because that charge makes the defendant subject to the two-year mandatory minimum. Prosecutors routinely drop the zone charge — and its mandatory minimum sentence — in exchange for a guilty plea. As a result of this practice, only a small percentage of zone charges lead to zone convictions.here." class="footnotereference">[22] This, however, leads to longer sentences than would otherwise be served for the lowest level non-violent drug offenders.