Featured report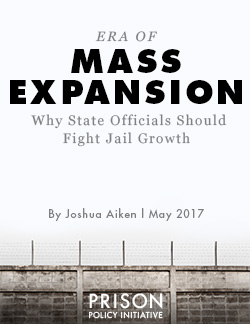 In a first-of-its-kind report, the Prison Policy Initiative challenges the myth that jails are only a local matter. While jails may be locally administered, state law defines the offenses and procedures that land people in jail 11 million times each year. With more than 150 graphics, the report explores the data to expose the real causes of jail growth in each state. The report offers ten recommendations to help state policymakers take responsibility for the overuse of jails in their states.
Mass incarceration, state by state
Learn about the national prison crisis and how we can begin to turn the tide on mass incarceration. Then, drill down to your state. Be sure to also check out our pages focused on D.C., and the incarceration of Native people.
If our work is new to you, you might want to check out our 2021-2022 annual report.