Featured report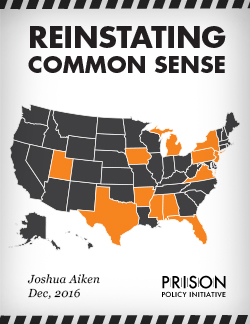 Reinstating Common Sense: How driver's license suspensions for drug offenses unrelated to driving are falling out of favor
A misguided federal law from the War on Drugs threatened states with reduced highway funding if states did not begin automatically suspending the driver's license of anyone convicted of a drug offense, even in cases unrelated to driving. These license suspensions, which last at least 6 months, struggle to find and keep employment for lack of transportation because of these needless license suspensions. Our new research found that more than 190,000 driver's licenses are suspended every year for non-driving drug offenses, and illustrates why this policy sets people up to fail.
Unpacking mass incarceration
Learn about the national prison crisis and how we can begin to turn the tide on mass incarceration. Then, drill down to your state.
If our work is new to you, you might want to check out our 2015-2016 annual report.