Insufficient funds: How prison and jail "release cards" perpetuate the cycle of poverty
We examined release card companies' fee structures to learn how this industry has evolved, and what government leaders can do to stop its worst practices.
by Stephen Raher, May 3, 2022
Every year, roughly 5 million people are released from jail and another half million leave prison. But just because they are released from physical custody doesn't mean that they are free of the financial exploitation resulting from that experience.
When a person leaves a correctional facility, they often receive their funds — wages earned while behind bars, support from family members, or money the person had in their possession when arrested — on fee-laden prepaid debit cards. As we explain below, there are several ways (six, to be precise) to get money off of a release card, but they are expensive, difficult, or both.
We first put a spotlight on these "release cards" in 2015, when they came on the scene as one of the newer ventures from companies that have traditionally profited by charging incarcerated people and their families exorbitant rates for phone calls, money transfers, or other technological services. While release cards were novel in 2015, they are now ubiquitous. Since then, the Consumer Financial Protection Bureau (CFPB) has reined in some of the industry's worst practices and cracked down on one of the biggest players in the industry, but these companies continue to line their pockets at the expense of low-income individuals who are trying to navigate the reentry process. As the CFPB's director recently noted, some release-card companies have made a practice of "siphoning off…people's own hard-earned money" through abusive practices that sometimes violate federal law.
To better understand how these companies continue to unfairly extract money from consumers — and more importantly, what can be done to stop them — we analyzed the most recent fee disclosures that release-card companies filed with the CFPB. The data (which are summarized in the appendix1) paint a picture of a complex obstacle course, riddled with pitfalls that deprive formerly incarcerated people of the modest amount of money they have when they are released.
The six ways release-card companies grab people's money
When someone is given a release card on their way out of a prison or jail, they have up to six ways to use its value, but each option entails different challenges, and most involve fees.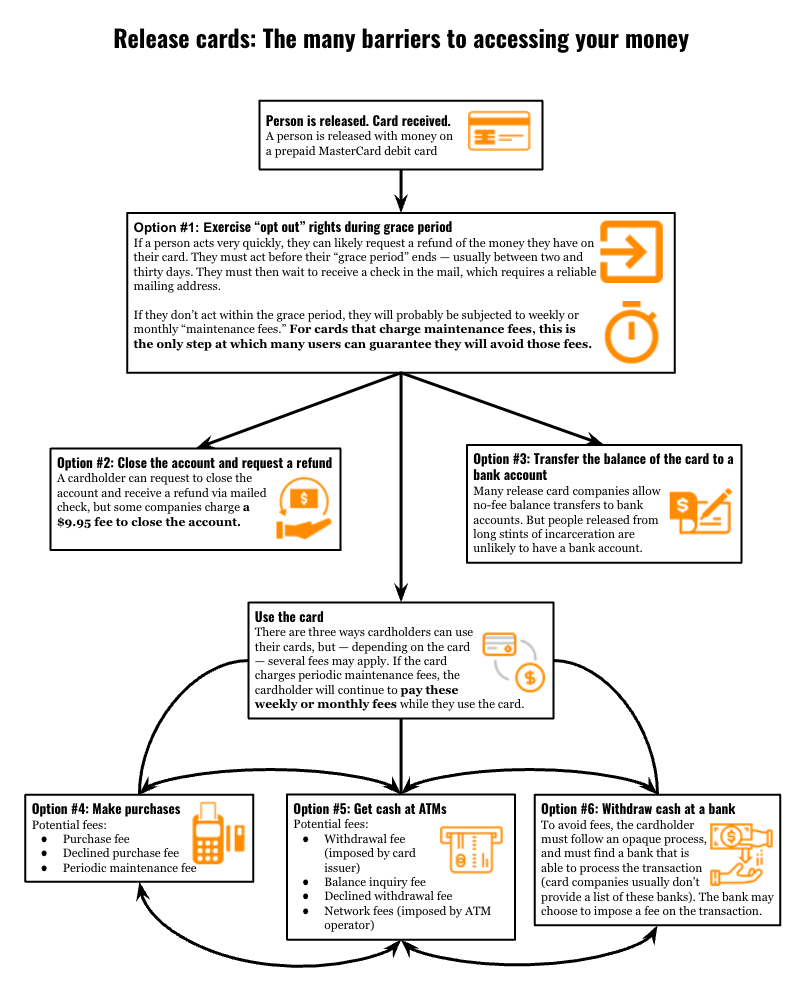 Option #1: Opt out (but the clock starts ticking at the moment of release)
The first way someone can get their money off of a release card is by exercising their right to "opt out" and get a refund.
While this may sound easy, it will come as no surprise that release-card companies make it difficult (or nearly impossible) for recently released people to exercise their opt-out rights. Cardholders face four primary hurdles:
First, the cardholder must act quickly. They have to notify the company they want a refund within an arbitrary "grace period" to avoid being hit with maintenance fees. These grace periods are generally between two and thirty days, creating an unnecessary obstacle at a time when the cardholder is trying to secure housing and employment, and (if on parole) comply with terms of supervised release.2
Second, opting out generally requires that the cardholder call customer service or make a web-based request to close the account. The problem here is that people recently released from custody frequently lack reliable phone or internet service.
Third, the cardholder cannot use the card for even a single transaction, effectively freezing their money at a time when they need it most.
Finally, refunds are generally sent via a mailed check, even though recently released people are likely to need time to establish a mailing address and are unlikely to be able to wait for the time required under the U.S. Postal Service's degraded delivery standards.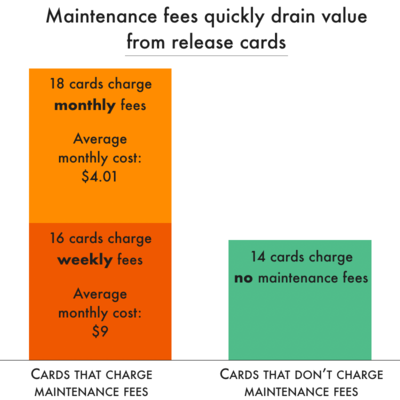 A full breakdown of fees charged by each card type is available in the appendix.
If someone receives a release card that charges a periodic maintenance fee and they do not close their account within the grace period, then the maintenance fees will be deducted from their card balance every week or month. Almost three-quarters of the release-cards we reviewed charge "account maintenance" fees.
Option #2: Close the account after the opt-out period has expired
After the grace period has expired, a cardholder can request that the account be closed and receive a refund via mailed check. Seventeen release cards (all managed by Numi Financial) charge a steep $9.95 fee for this service, meaning anyone with a balance of less than $10 can't take advantage of this option. Someone with a $50 balance can use this option, but effectively has to pay a fee of 20% for a very simple transaction.
Option #3: Transfer the money to a bank account (if you have one)
Some cardholders can transfer their balance to a bank account. Two of the three dominant release card brands (Access Corrections and Numi) appear to allow cardholders to transfer their funds to a bank account without paying a fee.3 However, the companies do not provide much detail about how to do this, beyond referring consumers to the program manager's website. While this may be useful for cardholders with bank accounts, most people being released from long terms of incarceration don't have bank accounts, effectively eliminating this option for them.
Option #4: Use the card to make purchases
Holders of release cards can use their balances to make in-store or online purchases. This only works if the business in question accepts Mastercard. While many retailers do, some important businesses (like landlords) do not.
But even if a cardholder wants to use the card at a Mastercard-accepting business, simply using the card for purchases can subject them to a whole new series of fees. Some cards charge users for each purchase (seven cards levy such fees, averaging 71¢ per transaction). These fees are hard to justify because card companies are already compensated for the cost of processing transactions through interchange fees paid by merchants.4
Half of the cards we examined charge fees for declined transactions, with an average fee of 62¢. These fees are even more difficult to justify because it doesn't appear that card issuers incur any expense when a purchase request is declined. These fees seem to be nothing more than corporate enrichment at the expense of consumers who are least able to absorb these costs.
Finally, don't forget that for cards with periodic maintenance fees, the longer it takes the consumer to spend down their balance, the more they will pay in weekly or monthly maintenance fees.
Option #5: Get cash at an ATM
Getting cash from an ATM also presents its own challenges and fees.
Some card companies offer a network of ATMs where customers can withdraw their money for free, or a relatively low fee. However, if the cardholder uses an ATM outside of this network, they're likely to be hit with fees by both the card issuer and the bank that operates the ATM. Twenty-nine release cards (60% of our data set) impose fees for ATM withdrawals — with an average fee of $2.58 per transaction. Sometimes these fees apply only to out-of-network ATMs, but some cards charge the fee for all ATM transactions.
Finally, twenty-four cards impose a fee for declined ATM transactions (with an average fee of 62¢). To avoid a declined-ATM-withdraw fee, a cardholder may want to check their available balance, but doing that at an ATM carries a fee — ranging from 50¢ to $1.50 — on thirty-seven release cards (77% of the data set).
Option #6: Withdraw cash at a bank
Over-the-counter withdrawals appear to often be fee-free, but figuring out how to use this option can be nearly impossible. For example, the cardholder agreement for Axiom Bank's release cards (branded as Access Corrections cards) states that cardholders must perform over-the-counter withdrawals at a "MasterCard principal financial institution," but neither Axiom or Mastercard itself provides information on how to determine which bank branches fall within this category. Similarly, Central Bank of Kansas City (a partner with Numi Financial) also fails to inform customers where they can make over-the-counter withdrawals, but cardholder materials do warn that banks offering this service may impose their own fees.
Making release cards work for recently released people
All too often, correctional facilities use release cards without giving any thought to the experience of the person being released from custody. For a short stint in jail — a few days or hours — simply returning a person's cash to them upon release is almost always the best option. If someone spends a longer time in custody, though, and accumulates a balance in their "trust account," a prepaid debit card may be a convenient way to give someone their money, especially if there are few (or no) fees and cardholders have free and easy-to-use options to transfer the balance or turn it into cash.
The real problem here isn't release cards themselves; it's the abusive fees and practices that are common in the industry today.
Correctional agencies can take steps to end some of the most outrageous release-card practices. For example, we identified one release card in the CFPB database that stands out in a good way: the Comerica Bank card used by the North Dakota Department of Corrections. This card has relatively few fees compared to other companies: just an inactivity fee of $2/month that kicks in if the card hasn't been used for twelve consecutive months, a $10 fee for expedited replacement of a lost card via overnight mail (a replacement card via first-class mail is free), and a few ATM fees.5 It's also the only card we reviewed that doesn't include a mandatory arbitration provision. How did such a small prison system get such a good deal? Because the North Dakota Department of Corrections joined with other state agencies that use prepaid debit cards (for payments like unemployment benefits) to negotiate a group contract with decent consumer protections. It's a practice more states can and should adopt.
State legislatures can also crack down on bad release-card deals. We've drafted simple model legislation that prevents most of the worst practices in the industry.
Finally, the federal government has a role to play in making these cards work better for consumers. The CFPB is currently looking at "junk fees" charged in connection with consumer financial products. These are fees that don't serve any real purpose other than to pad the bottom lines of the companies that charge them. We filed comments asking the CFPB to finish the work it started when it fined JPay last year. We encouraged the agency to crack down on some of the worst practices across the release card industry, in addition to addressing the equally abusive fees charged for money transfers to incarcerated people.
Release cards shouldn't be a tool for taking money from those who can least afford it. Prison and jail officials, along with state and federal leaders, have a responsibility to ensure the little bit of money that recently released people have is not quickly drained by hidden or inescapable fees. States and counties should follow the lead of North Dakota by leveraging their power to negotiate a contract that minimizes fees; state legislatures should prohibit the industry's worst practices; and the CFPB should continue to police companies in this sector.
Appendix
Disclosure concerning JPay data: With one exception, JPay has not uploaded long-form fee disclosures, thus, it is impossible to know the full range of fees. In addition, many of the fees JPay used to charge are now prohibited under the terms of the consent order entered in Admin. Proc. 2021-CFPB-0006. This table includes any fees listed in JPay's short-form disclosures, even though this information is likely out of date. If information in the CFPB database clearly establishes that a particular fee is not charged for a JPay release card, that fee is denoted as "–"; otherwise, if a fee could possibly be listed on the (unfiled) long-form disclosure, it is denoted as "Unknown". JPay's entries in the CFPB database also consistently fail to list the correctional agencies where any given card is used. When the database includes older (superseded) account agreements that do identify correctional agencies where cards were issued, we have listed those agencies here.
Account Maintenance Fees
Transaction Fees
ATM Fees
Inactivity Fees and Policies
Other Information
CFPB Database ID
Issuer
Program Manager
Correctional Agency
Weekly Fee
Monthly Fee
Grace Period
Purchase Fee
Declined Purchase
Balance Inquiry
Withdrawal
Declined Transaction
Inactivity Fees and Policies
Inactivity Period
Fee to Refund/Close Account
Miscellaneous Fees
Effective Date of Cardholder Agreement
C 10 AF Legacy (158574)
Axiom Bank
Rapid Financial
2.50
3 days
—
—
1.50
2.95
2.95
—
—
card replacement (2.99)
1/10/20
C 10 Legacy AF ALDOC (158575)
Axiom Bank
Rapid Financial
Alabama DOC
1.50
5 days
—
—
1.50
2.75
2.75
—
—
card replacement (2.99)
1/10/20
C 11 AF ALDOC WR1 (158576)
Axiom Bank
Rapid Financial
Alabama DOC
—
—
—
—
—
1.50
2.95
2.95
2.00/week
90 days
—
card replacement (2.99)
1/10/20
C 12 AF WR NMF (158577)
Axiom Bank
Rapid Financial
—
—
—
—
—
1.50
2.95
2.95
2.00/week
90 days
—
card replacement (2.99)
1/10/20
C 13 AF AL DOC (158578)
Axiom Bank
Rapid Financial
Alabama DOC
1.50
5 days
—
—
1.50
2.75
2.75
—
—
card replacement (2.99)
1/10/20
C 14 Legacy AF (158579)
Axiom Bank
Rapid Financial
2.50
3 days
—
—
1.50
2.95
2.95
—
—
card replacement (2.99)
1/10/20
C 15 NV DOC (158580)
Axiom Bank
Rapid Financial
Nevada DOC
1.50
3 days after activiation (or 90 days after issuance, if not activated)
—
—
1.50
2.75
2.75
—
—
card replacement (2.99)
1/10/20
C 18 IA DOC (158581)
Axiom Bank
Rapid Financial
Iowa DOC
—
—
—
—
—
1.50
2.95
2.95
2.00/week
180 days
—
card replacement (2.99)
1/10/20
C 20 GEO Legacy (158582)
Axiom Bank
Rapid Financial
GEO Group
—
—
—
—
—
—
—
—
2.00/week
180 days
—
—
1/10/20
C 22 CADDO PARISH WR (158583)
Axiom Bank
Rapid Financial
Caddo Parish (LA)
2.00
3 days
—
—
1.50
no ATM usage allowed
—
—
card replacement (2.99)
1/10/20
C 40 RP (158584)
Axiom Bank
Rapid Financial
2.50
3 days
—
—
1.50
2.95
2.95
—
—
card replacement (2.99)
1/10/20
C 45 Legacy RP (158585)
Axiom Bank
Rapid Financial
2.50
3 days
—
—
1.50
2.95
2.95
—
—
card replacement (2.99)
1/10/20
Elan Prepaid (44557)
US Bank
—
Nebraska DOCS
—
—
—
—
—
1.00 (out of network only)
1.25 (out of network only)
—
2.00/mo
270 days
not disclosed
Card replacement (5.00, or 10.00 for expedited), int'l (vars)
10/12/21
Elan Prepaid (44555)
US Bank
—
Arkansas DOC; Hampden County
2.00
none listed
—
—
0.50 (out of network only)
0.99 (out of network only)
—
—
not disclosed
Card replacement (5.00), bank withdrawal (3.00)
10/12/21
ND-Department of Corrections (46984)
Comerica
—
North Dakota DOC
—
—
—
—
—
—
1.25 (out of network only)
—
2.00/mo
12 months
Expedited card replacement ($10)
4/1/19
Prestige Prepaid Mastercard version 1B (199643)
Central Bank of Kansas City
Numi Financial
2.50
3 days
—
0.50
1.00
2.95
1.00
—
9.95
4/6/20
Prestige Prepaid Mastercard version 1C (199644)
Central Bank of Kansas City
Numi Financial
2.50
3 days
—
0.50
1.00
2.95
1.00
—
9.95
4/6/20
Prestige Prepaid Mastercard version 1CNO (199645)
Central Bank of Kansas City
Numi Financial
2.50
3 days
—
—
1.00
2.95
1.00
—
9.95
9/24/20
Prestige Prepaid Mastercard version 3B (199646)
Central Bank of Kansas City
Numi Financial
2.50
3 days
0.95 (PIN only)
0.50
1.00 (out of network only)
—
1.00
—
9.95
4/6/20
Prestige Prepaid Mastercard version 4B (199647)
Central Bank of Kansas City
Numi Financial
2.50
7 days
—
0.50
1.00
—
1.00
—
9.95
4/6/20
Prestige Prepaid Mastercard version 6B (199648)
Central Bank of Kansas City
Numi Financial
2.50
2 years
1.00 (PIN only)
0.50
1.00
2.95
1.00
—
9.95
4/6/20
Prestige Prepaid Mastercard version 7B (199649)
Central Bank of Kansas City
Numi Financial
5.95
5 days
—
0.50
1.00
2.95
1.00
—
9.95
4/6/20
Prestige Prepaid Mastercard version 7C (199650)
Central Bank of Kansas City
Numi Financial
5.95
5 days
—
0.50
1.00
2.95
1.00
—
9.95
4/6/20
Prestige Prepaid Mastercard version 7CNO (199651)
Central Bank of Kansas City
Numi Financial
5.95
5 days
—
—
1.00
2.95
1.00
—
9.95
4/6/20
Prestige Prepaid Mastercard version 7D (199652)
Central Bank of Kansas City
Numi Financial
5.95
15 days
—
0.50
1.00
2.95
1.00
—
9.95
4/6/20
Prestige Prepaid Mastercard version DOC1 (199653)
Central Bank of Kansas City
Numi Financial
—
—
—
—
—
—
—
—
—
—
4/6/20
Prestige Prepaid Mastercard version DOC2 (199654)
Central Bank of Kansas City
Numi Financial
2.50
60 days
—
—
1.00 (out of network only)
—
1.00
—
—
4/6/20
Prestige Prepaid Mastercard version DOC3 (199655)
Central Bank of Kansas City
Numi Financial
5.95
5 days
—
0.50
1.00
2.95
1.00
—
9.95
4/6/20
Prestige Prepaid Mastercard version DOC4 (199656)
Central Bank of Kansas City
Numi Financial
—
—
—
—
0.50
1.00 (out of network only)
—
0.95
3.00/mo
180 days
9.95
11/17/20
Prestige Prepaid Mastercard version DOC5 (199657)
Central Bank of Kansas City
Numi Financial
5.95
60 days
—
0.50
1.00 (out of network only)
—
0.95
—
9.95
4/6/20
Prestige Prepaid Mastercard version FSPA (199658)
Central Bank of Kansas City
Numi Financial
—
—
—
—
0.50
—
—
0.95
1.95/mo
180 days
—
4/6/20
Prestige Prepaid Mastercard version SPA (199659)
Central Bank of Kansas City
Numi Financial
4.95
30 days
—
0.50
1.00 (out of network only)
2.95 (out of network only)
0.95
—
9.95
4/6/20
Prestige Prepaid Mastercard version SPA15 (199660)
Central Bank of Kansas City
Numi Financial
5.95
15 days
—
0.50
1.00 (out of network only)
—
0.95
—
9.95
4/6/20
Prestige Prepaid Mastercard version WKA (199661)
Central Bank of Kansas City
Numi Financial
2.50
3 days
0.45 (PIN only)
0.50
1.00
2.95
1.00
—
9.95
4/6/20
JPay California (46811)
Metropolitan Commercial Bank
Praxell, Inc.
California
3.00
7 days
Unknown
1.00
—
Unknown
1.00
—
Unknown
4 other types of fees noted on short form disclosure
2/9/21
JPay Colorado (46828)
Metropolitan Commercial Bank
Praxell, Inc.
Colorado
0.50
7 days
0.70
0.50
0.50
2.00
0.50
2.99/mo
90 days
Unknown
Phone cust serv. ($1); 5 other types of fees noted on short-form disclosure
2/9/21
JPay Florida (46829)
Metropolitan Commercial Bank
Praxell, Inc.
Florida; New York work release; Tennessee work release
—
—
—
—
—
—
—
—
—
—
2/9/21
JPay Georgia (46830)
Metropolitan Commercial Bank
Praxell, Inc.
Georgia, Arizona, Lousiana
—
—
—
—
—
—
—
—
3.00/mo
90 days
—
2/9/21
JPay Kentucky (46832)
Metropolitan Commercial Bank
Praxell, Inc.
Kentucky
Unknown
—
—
0.50
0.50
2.00
0.50
2.99/mo
90 days
Unknown
7 other types of fees noted on short-form disclosure
2/9/21
JPay Milwaukee (46834)
Metropolitan Commercial Bank
Praxell, Inc.
Milwaukee, WI
—
6.00
7 days
—
0.50
—
—
0.50
—
Unknown
5 other types of fees noted on short form disclosure
4/1/21
JPay Missouri (46839)
Metropolitan Commercial Bank
Praxell, Inc.
Missouri
Unknown
—
—
1.95
1.50
—
Unknown
2.99/mo
90 days
Unknown
Card replacement ($5); 5 other types of fees noted on short-form disclosure
2/10/21
JPay MN (46840)
Metropolitan Commercial Bank
Praxell, Inc.
Indiana, Tennessee
—
2.00
7 days
0.70
1.00
—
2.00
1.00
2.99/mo
90 days
Unknown
6 other types of fees noted on short-form disclosure
2/24/21
JPay New Jersey (46835)
Metropolitan Commercial Bank
Praxell, Inc.
New Jersey
2.00
—
7 days
—
—
—
—
—
—
—
Card replacement ($5)
2/24/21
JPay New York (46836)
Metropolitan Commercial Bank
Praxell, Inc.
New York
—
2.00
7 days
0.50
1.00
0.50
2.00
0.70
—
Unknown
8 other types of fees noted on short-form disclosure
4/10/21
JPay New York 2 (188075)
Metropolitan Commercial Bank
Praxell, Inc.
Unknown
—
7 days
—
0.50
0.50
—
0.70
2.99/mo
90 days
Unknown
9 other types of fees noted on short-form disclosure
4/10/21
JPay Ohio (46837)
Metropolitan Commercial Bank
Praxell, Inc.
Ohio
—
1.00
7 days
—
Unknown
0.50
—
0.50
3.00/mo
90 days
Unknown
Card replacement ($8); 5 other types of fees noted on short-form disclosure
4/1/21
JPay Oklahoma (46838)
Metropolitan Commercial Bank
Praxell, Inc.
Oklahoma, North Carolina
—
6.00
7 days
—
Unknown
—
—
Unknown
—
Unknown
Card activation ($3); card replacement ($6); 3 other types of fees noted on short-form disclosure.
2/24/21
JPay (TN, IN, VA) (46841)
Metropolitan Commercial Bank
Praxell, Inc.
Tennessee, Indiana, Virginia
—
0.50
30 days
0.70
0.50
0.50
2.00
0.50
2.99/mo
90 days
9.95
Phone cust serv. ($1), card replacement ($5)
6/16/20
a