Multimedia & Graphics
Turning mass incarceration around is going to require not only policy analysis but also a shift in public opinion. Beyond our original research, we create powerful graphs, maps, videos, and audio and we collaborate with artists all to help the public, activists, and policymakers understand what it actually means to incarcerate a greater portion of our population than any other country in the world.
Below are some of the highlights:
Mass Incarceration in the United States We worked with YouTube celebrity Hank Green of Vlog Brothers, Kurzgesagt, and Visual.ly on a video explaining mass incarceration as a failed $182 billion/year experiment. So far, the video has been watched more than a million times.
Mass Incarceration: The Whole Pie 2017 This graphic aggregates the disparate systems of confinement and graphically illustrates that 2.3 million people are locked up in the U.S., where, and why.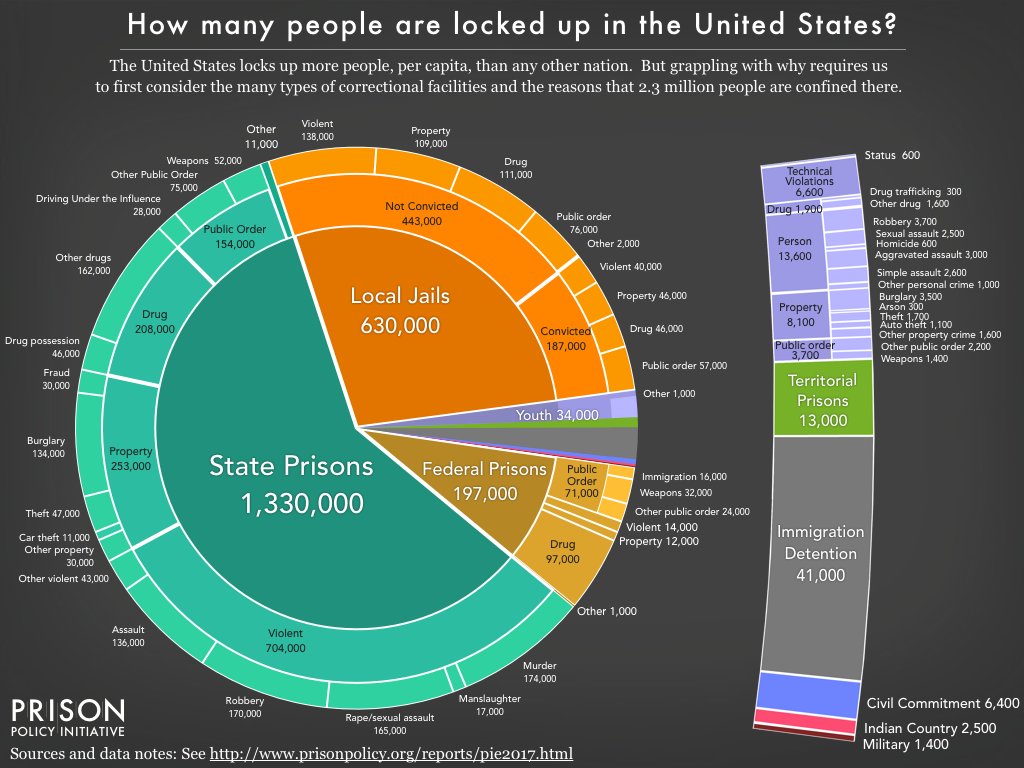 Women's Mass Incarceration: The Whole Pie 2017 This graphic uses the whole pie approach to unearth how 219,000 women fit into the big picture of mass incarceration.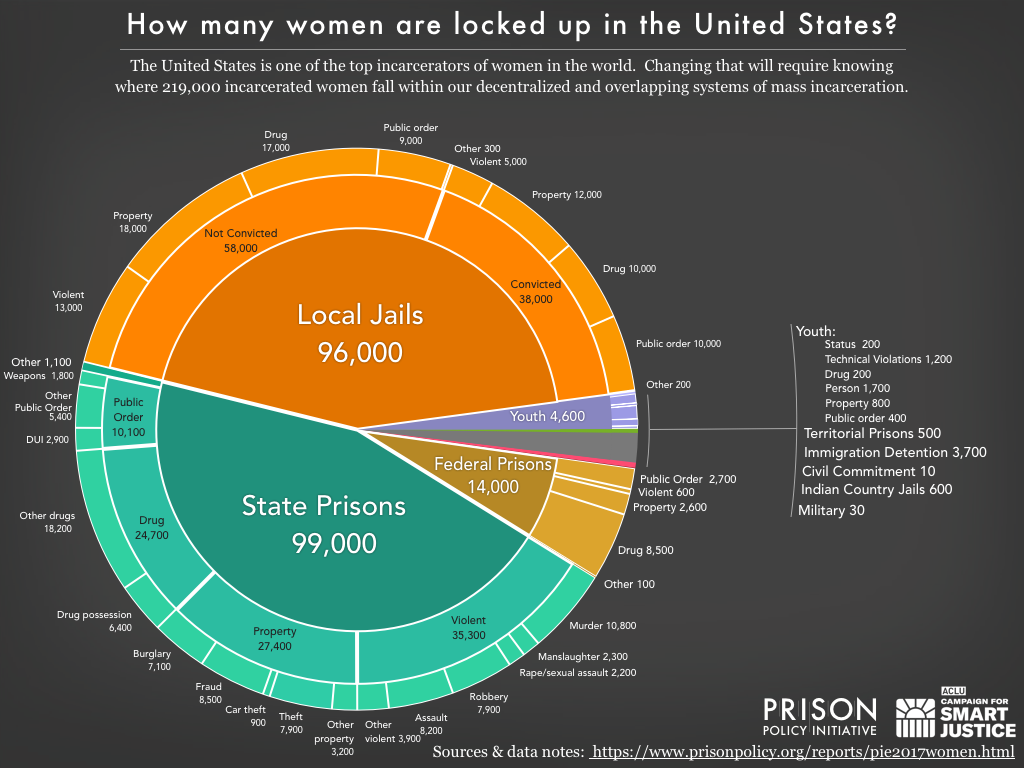 States of Incarceration: The Global Context We released this interactive graphic that compares every U.S. state's use of prison to that of other nations.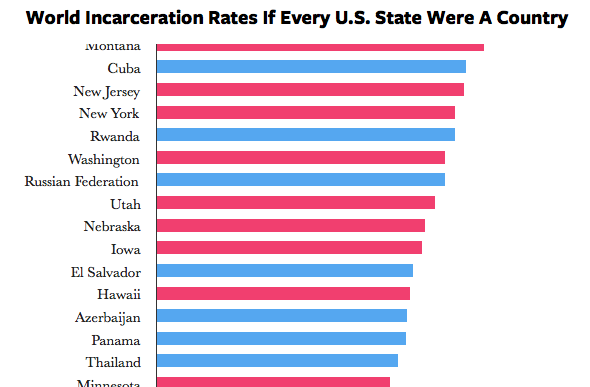 We showed that even the U.S. states that incarcerate the least are out of line with the international community: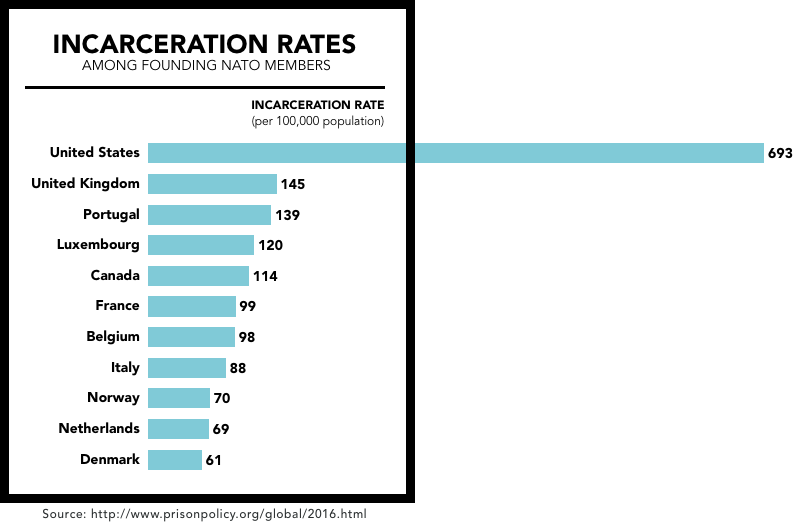 States of Women's Incarceration: The Global Context Our report and interactive graphic compare every U.S. state's use of prison for women to that of other nations, showing that incarceration of women in every state — even those with relatively progressive policies — is out of line with the international community.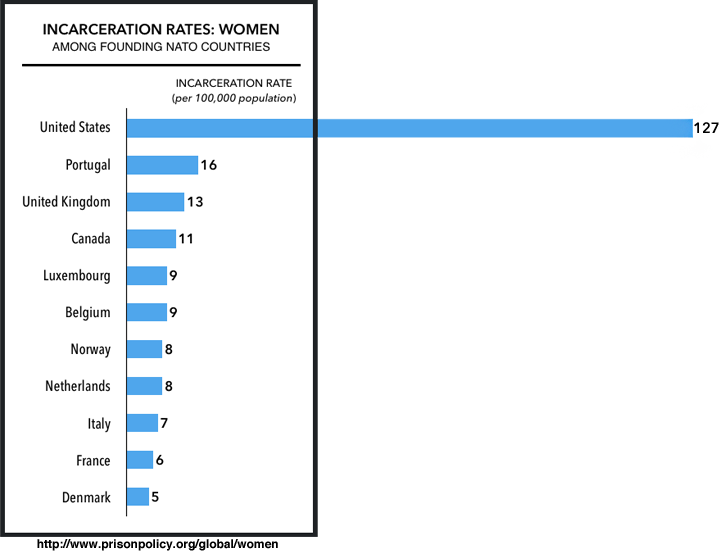 Tracking State Prison Growth in 50 States Among the report's 100+ graphs, we showed that state — not federal — policy is driving mass incarceration.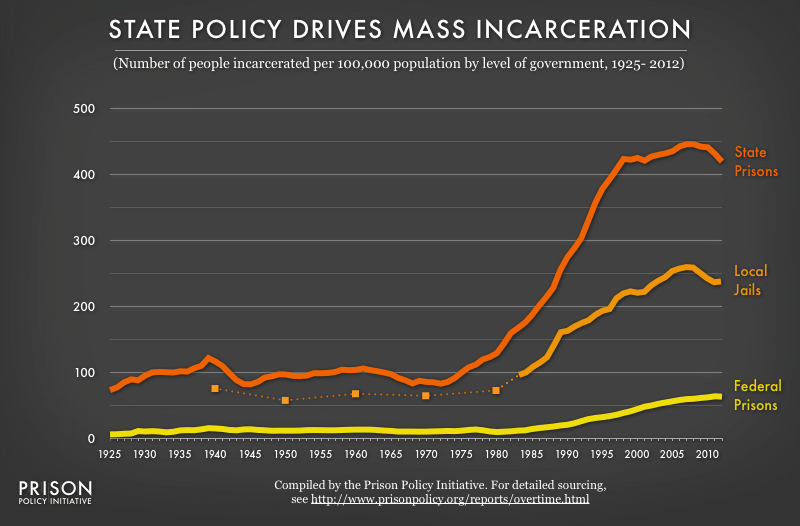 Breaking Down Mass Incarceration in the 2010 Census: State-by-State Incarceration Rates by Race/Ethnicity Shocking but true: the federal Bureau of Justice Statistics stopped publishing information about racial disparities in incarceration in each state in 2006. We filled that critical gap with 200+ graphs including the following:
The Prison Policy Initiative launched the national movement to end prison gerrymandering in 2002. We're making great progress, as our map below illustrates:
We have been working with partners across the country to bring fairness to the prison and jail phone industry that wants to charge families of incarcerated people $1/minute for simple phone calls. These companies would have you believe that, in an era of Skype and unlimited long-distance, the families of incarcerated people still live in the 1950s.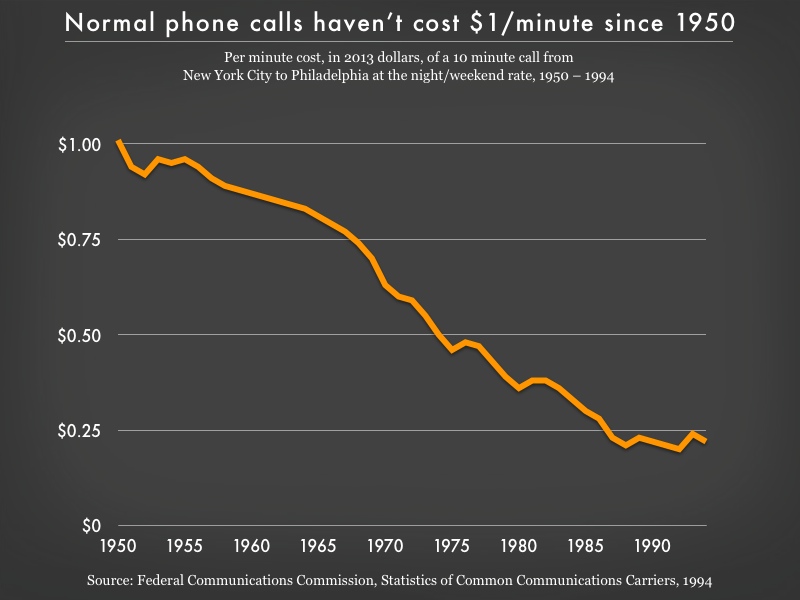 The Prison Policy Initiative specializes in explaining the geographic implications of criminal justice policy, including sentencing enhancement zones that punish some drug crimes more severely because they happen to be committed in an urban area. We produced this video to show that these laws fail to protect children and worsen racial disparity in incarceration.
Reaching too far: How Connecticut's large sentencing enhancement zones miss the mark In this graphic, we show that overlapping sentencing enhancement zones blanket Bridgeport, Connecticut, covering 92% of the city's residents while more rural Bridgewater contains just one zone, covering 8% of the town's residents.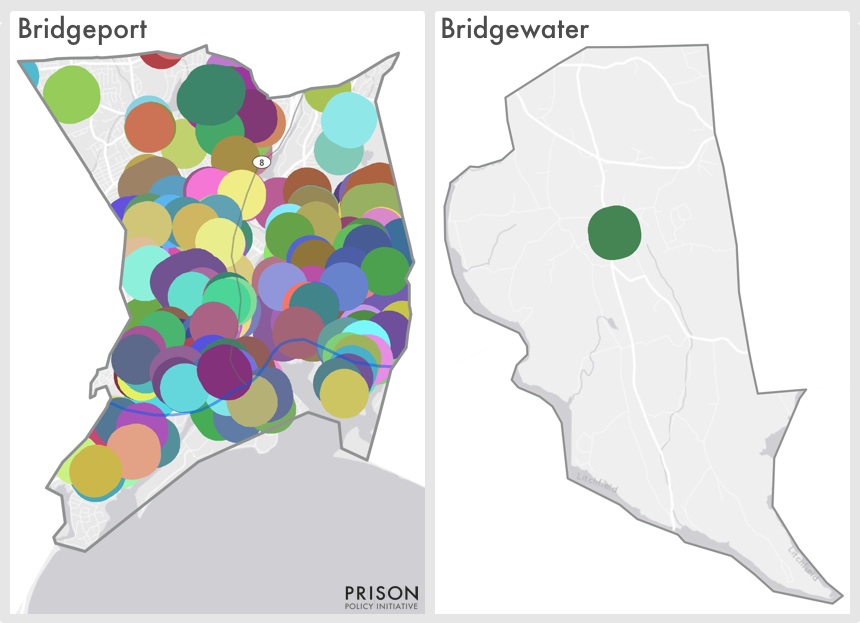 And here is an animated explainer we produced for the successful Connecticut campaign: