Our analysis reveals that at least 4.9 million people cycle through county jails each year - and most have serious medical and economic needs.
August 26, 2019
Police and jails are supposed to protect the public from serious public safety threats, but what do they actually do? Until now, attempts to answer this question have been missing the most basic data points: how many individuals cycle through local jails every year and who these individuals are.
A new report from the Prison Policy Initiative, Arrest, Release, Repeat, fills this troubling gap in the data. Building on its popular annual snapshot of the U.S. county jail population, the Prison Policy Initiative finds that: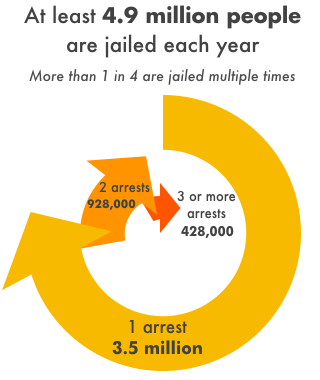 At least 4.9 million people are arrested and booked in jail every year.
At least 1 in 4 people who go to jail in a given year will return to jail over the course of a year.
At least 428,000 people will go to jail three or more times over the course of a year – the first national estimate of a population often referred to as "frequent utilizers."
"4.9 million people go to jail every year — that's a higher number than the populations of 24 U.S. states," said report co-author Alexi Jones. "But what's even more troubling is that people who are jailed have high rates of economic and health problems, problems that local governments should not be addressing through incarceration."
The report reveals that:
49% of people with multiple arrests in the past year had annual incomes below $10,000, compared to 36% of people arrested only once and 21% of people with no arrests.
Despite making up only 13% of the general population, Black men and women account for 21% of people who were arrested just once and 28% of people arrested multiple times.
People with multiple arrests are much more likely than the general public to suffer from substance use disorders and other illnesses, and much less likely to have access to health care.
The vast majority of people with multiple arrests are jailed for nonviolent offenses such as drug possession, theft or trespassing.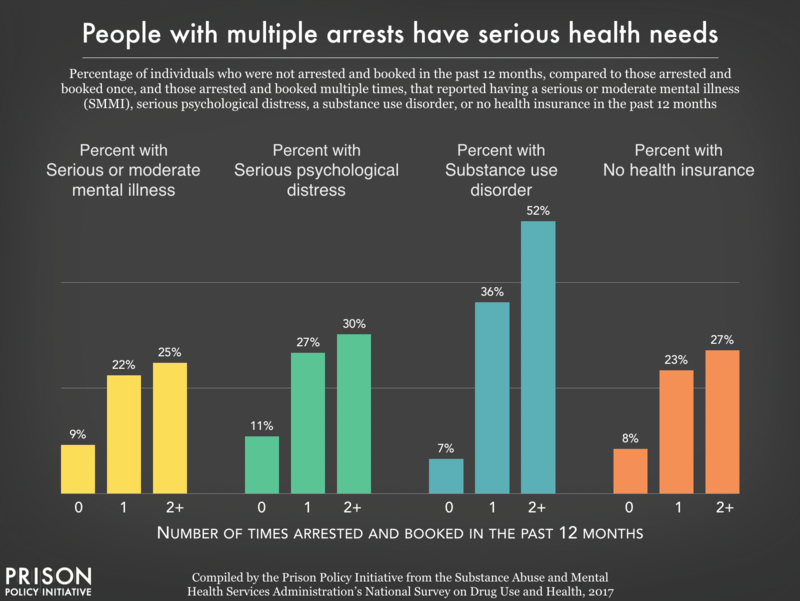 In a series of policy recommendations, the report explains how counties can choose to stop continuously jailing their most vulnerable residents and instead solve the economic and public health problems that often lead to arrest. "Counties should stop using taxpayer dollars to repeatedly jail people," said report co-author Wendy Sawyer, "and use the savings to fund public services that prevent justice involvement in the first place."