COVID-19 and the criminal justice system
The Prison Policy Initiative is tracking pandemic-related criminal justice policy changes, issuing recommendations to state and local criminal justice agencies, and busting common myths about COVID-19 and the justice system. We're also curating the most valuable work produced by our allies.
In June, we published a 50-state report: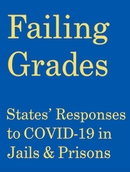 We worked with the ACLU to evaluate — and score — all 50 states' responses to the COVID-19 pandemic in prisons and jails.
Our other major resources:
We've also published several other resources:
Other important work
The Prison Policy Initiative is just one organization in a broad movement. While preparing the above, we've also identified some the most powerful materials created elsewhere in the movement and organized them into the below lists. We can't list everything, so we choose to prioritize materials that we thought would be the easiest for other advocates to adapt to the specifics of their local work.
Medical research
Selected demand letters and policy recommendations:
These are examples of some of the most powerful demand letters and policy recommendations made by experts around the country. (Again, we aren't trying to list everything, but wanted to highlight the materials that we've found the most useful in our work or that we thought would be the most applicable to the largest number of people and organizations.)
Polling data:
Data for Progress conducted a survey of 2,509 likely voters and found that across political parties, support for criminal justice reform to mitigate the risks of COVID-19 was strong. Respondents supported the reduction of jail and prison populations, releasing people within 6 months of completing their sentences, releasing at-risk individuals, and reducing unnecessary jail admissions.
Tools for legal action and advocacy:
The Civil Rights Corps released a template for emergency motions for pretrial release that advocates can file in any criminal case.
Other COVID-19 information aggregators:
With thousands of jurisdictions making ongoing policy changes, and local advocacy groups across the country issuing new demands, it's impossible to track all ongoing developments in one place. But if you can't find what you need from any of the above, these other resources would be the next best place to start: