New report: State-level criminal justice reforms that can win in 2020
We list 24 high-impact policy ideas for state legislators looking to reform their criminal justice systems.
by Wanda Bertram, December 12, 2019
This report has been updated with a new version for 2022.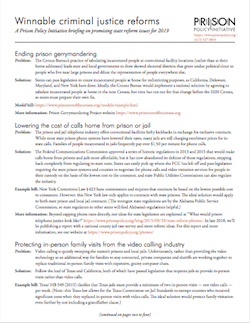 State legislatures can determine the future of mass incarceration. That's why we just published — as we do every December — a report on 20+ winnable criminal justice reforms that state legislators can take on.
We publish this report as a PDF with links to more information and model bills, and we'll soon send it to state legislators across the country. This year, our list of reforms ripe for legislative victory includes:
Eliminating probation fees and regulating privatized probation services
Banning Departments of Corrections taking kickbacks from prison retailers
Decreasing state incarceration rates by reducing jail populations
Repealing ineffective and harmful "sentencing enhancement" zones
Offering medication-assisted opioid treatment to reduce deaths in prison
Protecting in-person visits and letters from home in local jails
Ending automatic driver's license suspensions for nonpayment of fines and fees, and for drug offenses unrelated to driving
Capping maximum probation terms
Reducing or eliminating jail time for technical violations
Reducing barriers to housing for formerly incarcerated people
Our full report on winnable criminal justice reforms includes more ideas for reducing state prison populations, eliminating burdensome costs for incarcerated people, supporting people leaving prison, and promoting public health and community safety.
Will your state be working on any of these reforms? We're looking forward to the progress we can make together in 2020!