New infographic: How does your state's use of the prison compare to the nations of the world?
June 11, 2014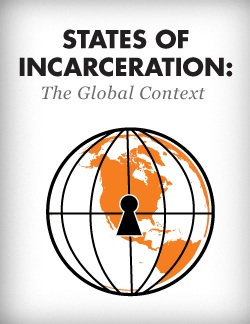 June 11, 2014 — How does your state compare to the international community when it comes to the use of incarceration? Not very well, says a new infographic and report by the Prison Policy Initiative and data artist Josh Begley.
This report, "States of Incarceration: The Global Context," recognizes that while there are important differences between how U.S. states handle incarceration, incarceration policy in every region of this country is out of step with the rest of the world.
"It is essential to focus on the incarceration practices of individual states," said Peter Wagner, Executive Director of the Prison Policy Initiative. "Most criminal justice policy decisions are made at the state level and the vast majority of the people locked up are locked up for violating state laws,"
This report is the first to directly situate individual U.S. states in the global context. The report and infographic draws international figures on incarceration from the International Centre for Prison Studies and state-level data from the U.S. Census Bureau.
"Compared to Louisiana, most U.S. states appear to have reasonable rates of incarceration, but it is disturbing to see where these 'reasonable' states stack up in the broader carceral landscape," said data-artist and co-author Josh Begley.
The non-profit, non-partisan Prison Policy Initiative produces cutting edge research to expose the broader harm of mass incarceration, and then sparks advocacy campaigns to create a more just society. Josh Begley, a graduate of the Interactive Telecommunications Program at New York University, is most famous for creating an iPhone app that tracks every reported United States drone strike. Past collaborations between Mr. Begley and the Prison Policy Initiative have included an infographic about whether the states that bar the most people from the polls should in fact be picking the next president and Prison Map, a website exploring the geography of incarceration.
Links:
– 30 –