Remembering Edwin "Eddie" Ellis.
by Peter Wagner, July 25, 2014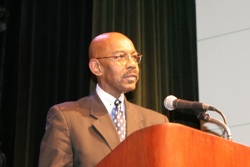 Photo of Edwin "Eddie" Ellis speaking at Citizens Against Recidivism, Inc. (Photo: Citizens Against Recidivism, Inc.)
I was saddened to read this morning of the passing of Eddie Ellis, one of the first people to encourage my work to end prison gerrymandering, frequently inviting me to his On the Count radio program on WBAI.
Being on his program, and having Eddie introduce me to other important activists in New York City was a great honor for a young law student and then young lawyer, but I don't think I ever told him that I was a fan of his long before he starting telling people to read my Importing Constituents report.
I first learned of Eddie Ellis from footage when he was still incarcerated in the excellent film The Last Graduation about the value of higher education in prisons and the horrible decision by the Clinton administration and Congress to end Pell Grants for incarcerated people, thereby shutting down very cost-effective college programs nationwide.
Eddie, a former Black Panther, served 23 years for a murder he didn't commit. After his release, Eddie hit the ground running, continuing the work he started when he was on the inside. As the New York Times summarized a decade ago:
Rather than talk in broad sociological terms of crime and punishment, Mr. Ellis and his prison colleagues prefer to sketch out a sociological whirlwind: 47 percent prisoner recidivism rooted in an annual traffic of 26,000 prisoners going in and 23,000 coming out…

Out-of-Date Strategies

"The fact that must be faced, then, is that at least 11,000 new crimes are going to be committed by these guys coming out, most of them in their home neighborhoods," Mr. Ellis stressed. "So what we do in the prisons can't be done in the abstract, removed from these neighborhoods and their Afrocentric and Latino cultures." Traditional prison strategies, he argued, are 50 years out of date and geared for the "Jimmy Cagney" days when Italian and Irish prisoners were the white majority in a much smaller, pre-drug-culture prison population.

The study groups within the prisons have crafted room for their activities from the tolerance for reform that followed the Attica prison riot of 1971. The chief groups, sometimes operating with church or civil rights sponsors, meet regularly in Green Haven, Eastern, Sing Sing, Woodbourne, Walkill and Auburn prisons. Each year they sponsor a seminar rooted in their nontraditional approach and attended by outside specialists.

…

[Ellis is interested] in shaping fresh changes in prison and tapping what he and some prison administrators see as a thoughtful talent pool of first-hand experience residing behind bars. Even more, as he exults in being back on the streets of Harlem, his beloved birthplace, Mr. Ellis keeps his departing galley-ship image of the prison system in mind.

"We've had enough textbook penology," he said, trying to urge an outside world sick of the deepening rut of crime and punishment to consider alternative perspectives from some of the system's resident experts.
The organization that Eddie founded, the Center for Nu Leadership, has a longer obituary.