New data reveals where people in Connecticut prisons come from
Report shows every community is harmed by mass incarceration
October 5, 2022
Today, Full Citizens Coalition, Common Cause in Connecticut, and the Prison Policy Initiative released a new report, Where people in prison come from: The geography of mass incarceration in Connecticut, that provides an in-depth look at where people incarcerated in Connecticut state prisons come from. The report also provides eleven detailed data tables — including neighborhood-specific data for Bridgeport, Hartford, Stamford, and Waterbury — that serve as a foundation for advocates, organizers, policymakers, data journalists, academics and others to analyze how incarceration relates to other factors of community well-being.
The data and report are made possible by the state's historic 2021 law that requires that people in prison be counted as residents of their hometown rather than in prison cells when state and local governments redistrict every ten years.
The report shows:
Almost every single city — and every state legislative district — is missing a portion of its population to incarceration in state prison.
New Haven County, the third largest county in the state by population, sends the most people to prison and has the highest incarceration rate of all of the counties in the state.
There are dramatic differences in incarceration rates within communities. For example, in Hartford, a city that is one of the starkest examples of redlining in the country, residents of the Upper Albany neighborhood are four times as likely to be imprisoned than residents of the nearby West End neighborhood.
Data tables included in the report provide residence information for people in Connecticut state prisons at the time of the 2020 Census, offering the clearest look ever at which communities are most impacted by mass incarceration. They break down the number of people locked up by county, city, town, zip code, legislative district, census tract and other areas.
The data show the cities with the highest state prison incarceration rates are Hartford (1,065 per 100,000 residents), Waterbury (931 per 100,000 residents) and Bridgeport (903 per 100,000 residents). For comparison, Shelton has the lowest prison incarceration rate of any city, at 102 people in state prison per 100,000 residents. The statewide incarceration rate is 288 per 100,000 residents.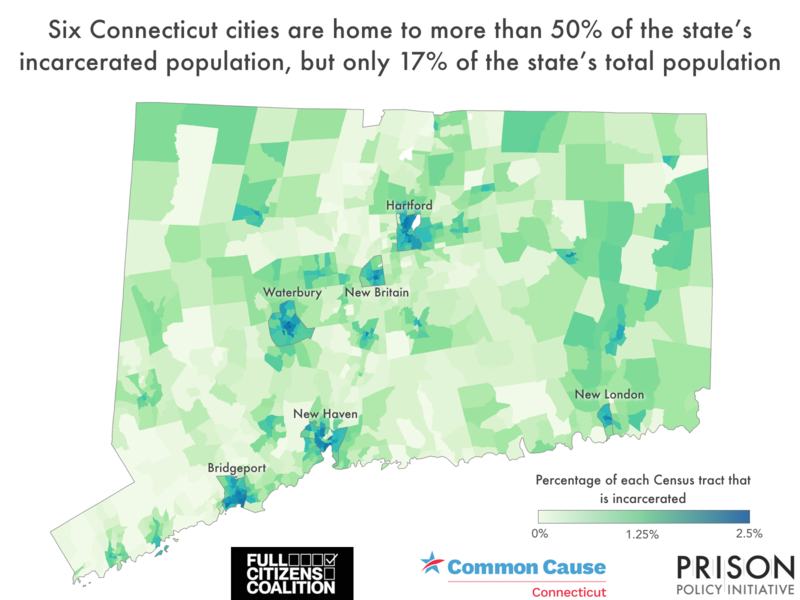 "The nation's 40-year failed experiment with mass incarceration harms each and every one of us. This analysis shows that while some communities are disproportionately impacted by this failed policy, nobody escapes the damage it causes," said Emily Widra, Senior Research Analyst at the Prison Policy Initiative. "Our report is just the beginning. We're making this data available so others can further examine how geographic incarceration trends correlate with other problems communities face."
"This data and report put a spotlight on the deep and enduring wounds caused by mass incarceration in Connecticut," said James Jeter of The Full Citizens Coalition. "As Connecticut looks to turn the page on the era of mass incarceration, it should make direct investments into the people, housing, education, and economic opportunities in those communities that have experienced the most pain."
The report cites studies that show that incarceration rates correlate with a variety of negative outcomes, including higher rates of asthma, depression, lower standardized test scores, reduced life expectancy and more. The data included in this report gives researchers the tools they need to better understand how these correlations play out in Connecticut.
"Every person locked behind bars in Connecticut represents a piece of the fabric of a community that is missing," said Keshia Morris Desir, of Common Cause. "This report and its data help to show the deep damage that is done to communities large and small by mass incarceration, and more importantly, provides guidance on where and how resources and support should be allocated to end this devastation."
The report is part of a series of reports examining the geography of mass incarceration in America.
Connecticut is one of more than a dozen states and 200 local governments that have addressed the practice of "prison gerrymandering," which gives disproportional political clout to state and local districts that contain prisons at the expense of all of the other areas of the state. In total, roughly half the country now lives in a place that has taken action to address prison gerrymandering.