PPI will expose hefty fees and commissions at FCC workshop on prison phone service
The workshop is from 9am-5pm EST Wednesday July 10th, and the FCC needs to hear from you. Find out how to participate.
by Leah Sakala, July 9, 2013
Tomorrow will be an important day in the fight to bring fairness to the prison and jail telephone industry.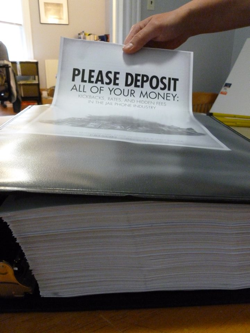 As I write, our Executive Director, Peter Wagner, is on his way down to D.C. for the Federal Communication Commission's Workshop on Reforming Inmate Calling Services Rates tomorrow. Peter will present our research findings on fees and commissions on a panel about the true cost of providing phone service in prisons and jails.
The workshop is from 9am-5pm EST tomorrow, Wednesday July 10th, and the FCC needs to hear from you. There are lots of ways to participate:
The workshop is free and open to the public. If you are in the D.C. area, please consider attending in person at the FCC Commission Meeting Room, 445 12th Street, S.W., Washington, DC.
If you can't make it in person, watch the live stream of the workshop online starting at 9AM EST tomorrow morning.
Spread the word and make your voice heard on social media. Join the discussion on Twitter using the hashtag #phonejustice (we'll be Tweeting as usual under the handle @prisonpolicy).
Ask questions you'd like answered at the workshop by emailing livequestions@fcc.gov or tweeting them at @FCC with the FCC's suggested hashtag #InmateCallingRates.
After more than a decade, it's time for the FCC to finally provide relief to the families of incarcerated people by regulating the prison phone industry. Tomorrow's workshop is a step in the right direction.
Update July 11, 2013: A video of the complete workshop is now available on YouTube.