It's time for Massachusetts to stop shackling incarcerated women who are giving birth
by Leah Sakala, December 12, 2013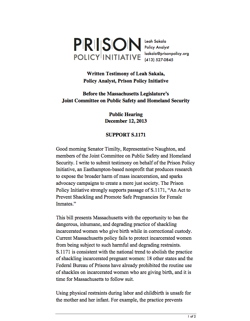 The list of states that reject the dangerous and inhumane practice of shackling incarcerated women in labor and delivery is growing. But Massachusetts isn't on it. Yet.
A bill has been introduced in the Massachusetts Legislature to ban the routine use of physical restraints on incarcerated pregnant women after the first trimester, including during labor and delivery. The bill also establishes common-sense basic standards for the prenatal, childbirth, and postpartum care afforded to incarcerated women in Massachusetts.
This bill is up for a hearing before the Joint Committee on Public Safety and Homeland Security this morning, and we submitted written testimony:
This bill presents Massachusetts with the opportunity to ban the dangerous, inhumane, and degrading practice of shackling incarcerated women who give birth while in correctional custody. Current Massachusetts policy fails to protect incarcerated women from being subject to such harmful and degrading restraints. S.1171 is consistent with the national trend to abolish the practice of shackling incarcerated pregnant women: 18 other states and the Federal Bureau of Prisons have already prohibited the routine use of shackles on incarcerated women who are giving birth, and it is time for Massachusetts to follow suit.

Using physical restraints during labor and childbirth is unsafe for the mother and her infant. For example, the practice prevents healthy, natural labor movement, increases the chances that a laboring woman will fall, impedes medical providers' ability to provide care during labor and childbirth, delays emergency care when necessary, and obstructs maternal-infant bonding. The practice of shackling incarcerated pregnant women has been widely condemned by the medical community including the American Medical Association, the American Public Health Association, and the American College of Obstetricians and Gynecologists.

Furthermore, the routine use of physical restraints during labor and delivery serves no legitimate public safety purpose. An August 2013 report found that "[a]mong states that have restricted the shackling of pregnant women, none have reported any subsequent instances of women in labor escaping or causing harm to themselves, the public, security guards, or medical staff."
The Committee should act quickly to pass the bill so that incarcerated women in Massachusetts are permitted to give birth safely and with dignity.