by Peter Wagner, September 30, 2016
On Saturday, I was honored to accept, on behalf of the Prison Policy Initiative, the Foundation for Improvement of Justice's Paul H. Chapman Award.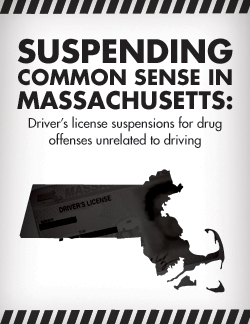 The Atlanta-based foundation recognized the Prison Policy Initiative for our report Suspending Common Sense in Massachusetts: Driver's license suspensions for drug offenses unrelated to driving. This report exposed a little-known, but extremely harmful, law that automatically suspended driver's licenses for drug offenses, regardless of whether the offenses involved driving or road safety. The state would then charge $500 for reinstatement, further ensuring that people with drug convictions would have a hard time getting employment or fulfilling familial needs.
Our report provided persuasive evidence of the law's failure as a crime deterrent, pointed out that the law actually made the roads less safe because it increased the number of unlicensed and uninsured drivers, and included a detailed analysis of the resources wasted on enforcing unnecessary license suspensions.
Our followup advocacy helped the state understand that the law was punishing entire communities, not just a few individuals; and the law was repealed earlier this year.
Thirteen other states and the District of Columbia have similar laws, so we will be using the prize money to expand our campaign for reform of this outdated relic of the War on Drugs.
Below are some pictures of the award ceremony.