11 of our most important reports of 2021
Some highlights from the six major reports and 40+ short reports we've published this year.
by Wanda Bertram, December 20, 2021
Our work in 2021 has exposed little-known forms of exploitation behind bars, heartless COVID-19 policies, and overlooked reasons that mass incarceration persists. With 2021 coming to a close, we thought we'd share the most important reports we published this year:
We gathered data from all 50 states and the federal government to compare how prison systems responded to the coronavirus in the pandemic's first year and a half. We graded each state's pandemic response along almost 30 data points, finding that virtually every state allowed prisons to remain crowded and unsanitary, abandoning incarcerated people to die. Our report includes graphics showing how states compare on key issues — like getting the vaccine to incarcerated people — and appendix tables breaking down all of the data we collected.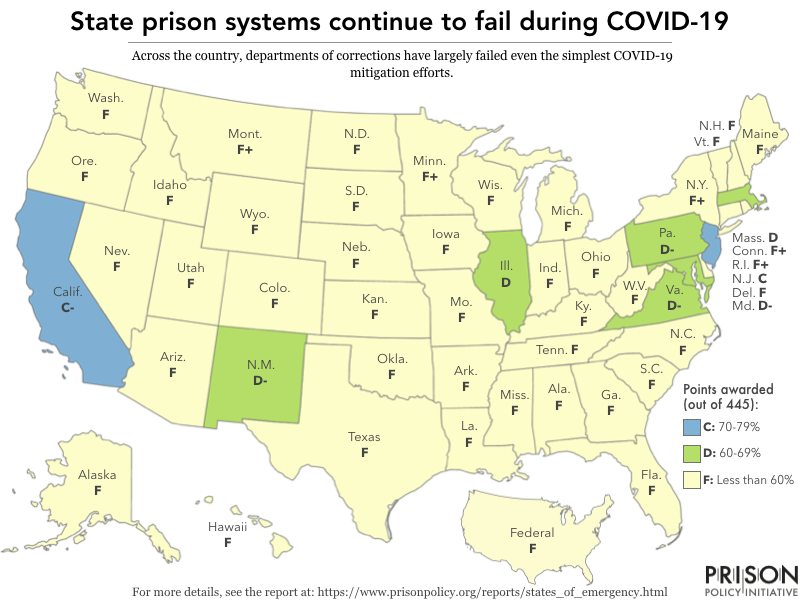 Our analysis of parole releases in 13 states shows that in 2020 — amid a global pandemic that infected one in three people in U.S. prisons — parole boards actually held fewer parole hearings and granted fewer releases than in previous years. Parole grant rates are low in ordinary years, but the number of hearings and releases fell even lower during COVID-19, even in "progressive" states like New York.
In this report, we compare the incarceration rates of every U.S. state to those of almost every independent country. We find that many states — if they were independent countries — would have the highest incarceration rate in the world. Moreover, every U.S. state incarcerates at least twice as many people (per capita) as do countries like the U.K., Canada, France, and Belgium, even though many of these countries have comparable or higher rates of violent crime.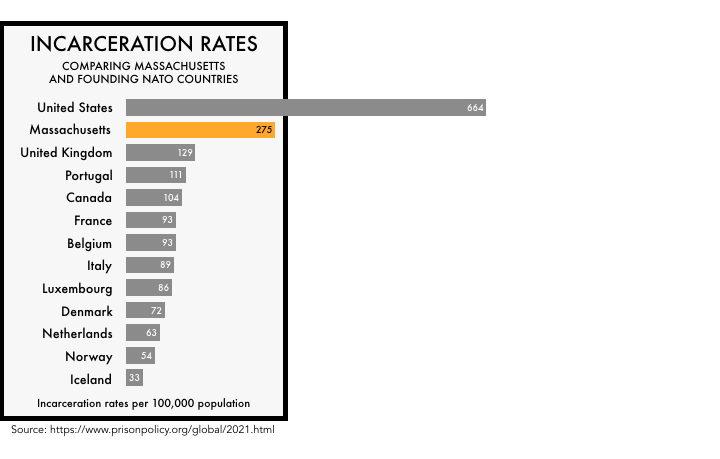 One of the many reasons mass incarceration persists is that county governments, dealing with crowded jails, believe the only solution is to build a new, bigger jail — even though their constituents often know better. This year, a resident of Otsego County, Michigan sent us his county's proposal for a bigger jail, a report that the county had commissioned from a private jail architecture company. Our analysis of the firm's arguments found that the county, contrary to needing a larger jail, was locking up many people for no good reason and should instead be working to reduce incarceration. Shortly after we released this piece, residents of Otsego County once again voted down the proposed jail expansion.
What should counties with crowded jails do, instead of building bigger jails? Policymakers often say the solution is a "diversion program" to keep people out of jail. But what exactly is a diversion program? This report explains the wide variety of programs that can be called "diversion," and the benefits and drawbacks of each. We envision the criminal legal system as a highway, with diversion programs offering five major "exits" off the road to incarceration. We compare and contrast the different programs, showing how the best programs get people off the highway to incarceration as early as possible, long before arrest or jail time.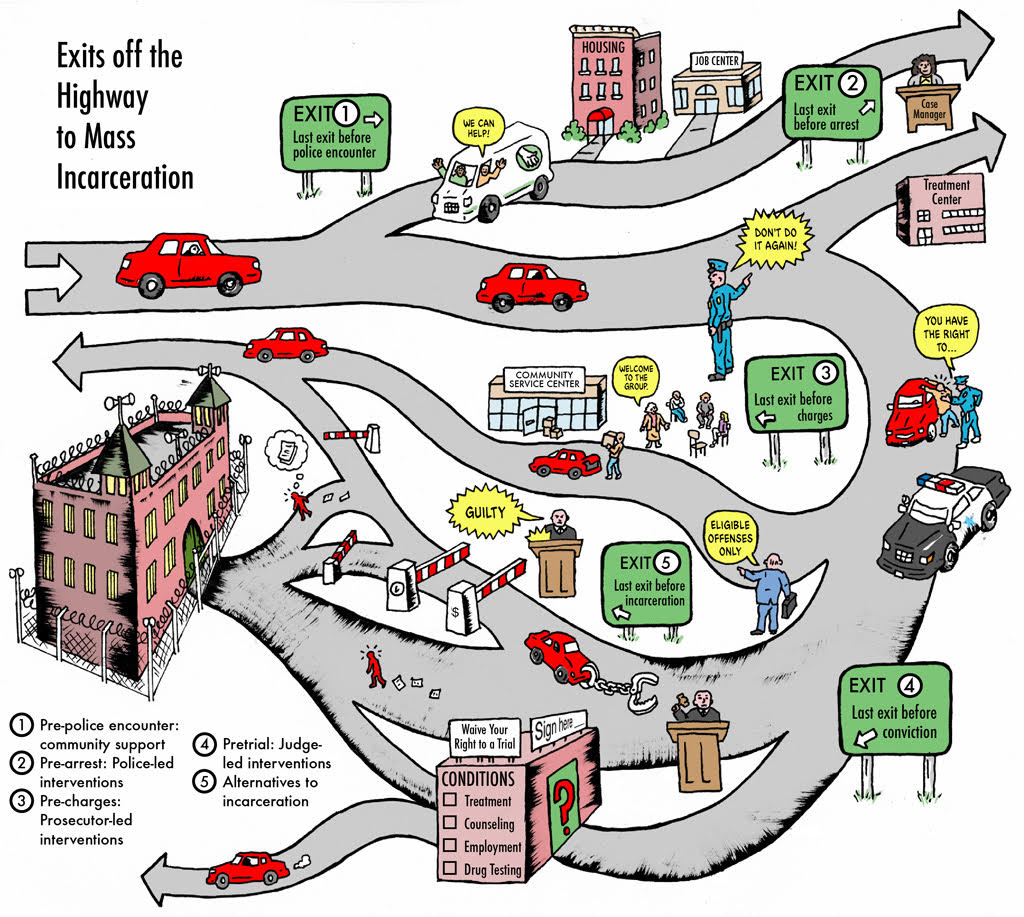 The Prison Litigation Reform Act (PLRA) — one of many damaging Clinton-era crime bills — has made it harder for incarcerated people to file federal lawsuits and seek relief when their civil and human rights are violated. For the 25th anniversary of the PLRA being signed into law, we worked with Professor Margo Schlanger, the nation's leading expert on the issue, to expose the harm done by this law and explain how it limits access to meaningful justice and makes court orders less effective.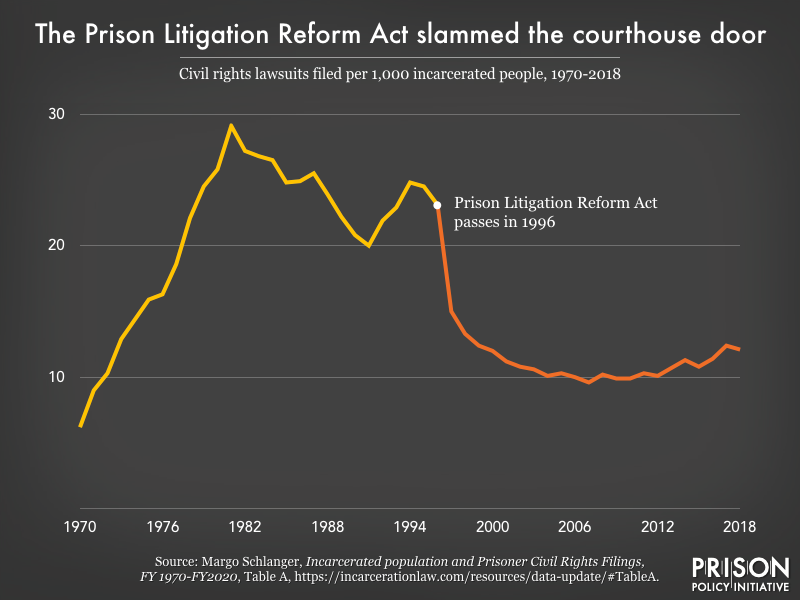 Our first-of-its-kind report surfaces an important but under-discussed issue: the policies in all 50 states that reduce jury diversity by excluding some people with criminal records from serving. Our report includes an easy-to-read map and detailed table describing each state's policies, and explains how these policies make criminal trials even less fair.
For Indigenous People's Day, we gathered and reported the key facts showing how Native people are overrepresented in the criminal justice system. Most importantly, we explain how the number of Native people locked up in prisons and jails has skyrocketed since 2000, coinciding with a jail-building boom on tribal lands. Our briefing also explains how persistent flaws in data collection obscure the scale and scope of Native people in the criminal justice system.
All too often, prisons force people to buy certain basic necessities (such as soap) from the commissary, rather than providing them at no cost. Prisons claim that people who are extremely poor can get certain items for free. But who qualifies as "poor" in prison? We conducted a 50-state survey to find out how prisons determine who "really needs" financial assistance, and discovered requirements so strict that even the poorest people often don't qualify.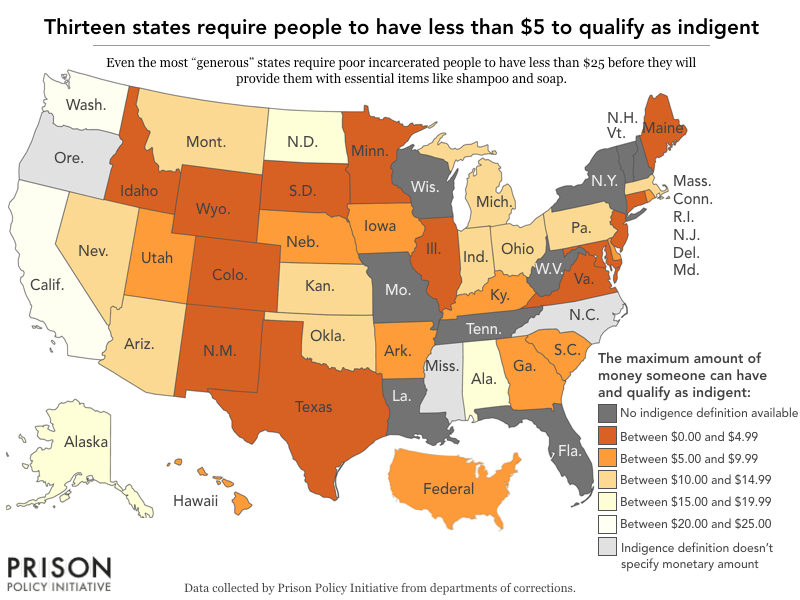 Our 50-state report breaks down how much it costs to send funds to an incarcerated loved one. As people in prison are increasingly expected to pay for everyday costs like food and hygiene items, a whole industry has arisen to provide faster — but vastly more expensive — electronic money transfers to incarcerated people. Our report shows which companies (if any) hold the contracts to provide money-transfer services in each state prison system, and explains what the fees are to use these services, which harmful clauses are hidden in the "fine print," and what a better money-transfer system might look like.
Data released this year by the Bureau of Justice Statistics shows that prison and jail deaths steadily increased in the several years leading up to 2018, even as correctional populations stayed relatively flat. In a short report, we dive into the new BJS data to explore what has caused in-custody deaths to rise over the past several years — a disturbing trend that anecdotal reports suggest is getting even worse during the COVID-19 pandemic. We identify several key factors at play, including abusive correctional healthcare systems, officials unwilling to give effective care to people with substance use disorders, and cruel policies that hurt incarcerated people's mental health, driving many to suicide.
This list only scratches the surface of the work we've done in 2021. In total, we've published six major reports and over 40 shorter research briefings this year. To see more of our work, check out our Reports page and our Briefings page. Or, to see research we've conducted about your state, visit our state profile pages. And if you'd like to get more frequent updates on our work in 2022, you can sign up for our approximately-weekly email newsletter.
As we head into a new year, we'll continue producing cutting-edge research that exposes the ways mass incarceration harms the people behind bars and our society as a whole.