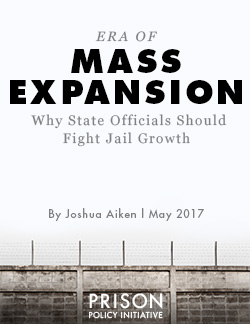 Table of Contents
Era of Mass Expansion:
Why State Officials Should Fight Jail Growth
a Prison Policy Initiative Report
by Joshua Aiken
Press Release
May 31, 2017
One out of every three people behind bars is being held in a local jail, yet jails get almost none of the attention that prisons do. Jails are ostensibly locally controlled, but the people held there are generally accused of violating state law, and all too often state policymakers (and state reform advocates) ignore jails. In terms of raw numbers state prison reform is the larger prize, but embracing the myth that jails are only a local matter undermines current and future state-level reforms. Jails may be locally controlled, but jail practices reflect state priorities and change state-wide outcomes.
The 11 million1 people who go to jail each year are there generally for brief, but life-altering2, periods of time. Most are released in days or hours after their arrest, but others are held for months or more3, often because they are too poor to make bail. Only about a third of the 720,000 people in jails on a given day have been convicted4 and are serving short sentences, typically under a year and most often for misdemeanors. Jail policy is therefore in large part about how people — who are legally innocent, until proven guilty — are treated and about how policymakers think our criminal justice system should respond to low-level offenses. As this report will explain, jails impact our entire criminal justice system and millions of lives every year.
Since the 1980s, the U.S. jail population has more than tripled.5 While "tough on crime" attitudes have resulted in increasing numbers of people convicted of minor crimes, this brief focuses on the two real drivers of jail growth:
If lawmakers want criminal justice reform, they'll have to pay attention to jails. To help state officials and state-level advocates craft reform strategies appropriate for their unique situations, this report uses obscure federal government data to offer state-specific graphs on conviction status, prison growth, and jail growth in each state.
It is our hope that this report will prompt detailed examinations of policy and practice in each state: bail policies, citation and arrest practices, overzealous prosecutors, over-burdened courts, harsh criminalization laws, rare or underfunded pre-trial services and diversion programs, and a number of other factors that send jail incarceration rates off the charts. Lawmakers need to know that in most states, their jail incarceration rate is higher than the combined prison and jail incarceration rate in countries like Australia, France, Libya, and Uganda.6
Jail growth is not inevitable
The growth of jails is, in the arc of history, a modern phenomenon that occurred with little state oversight.7 While jail policies directly influence the state prison population, most governors may be unaware of the pace of jail expansion in their state because jail construction was largely financed by local — not state — taxpayers.
The key driver of jail growth is not courtroom judges finding more people guilty and sentencing them to jail. The convicted population has actually decreased in the last 20 years.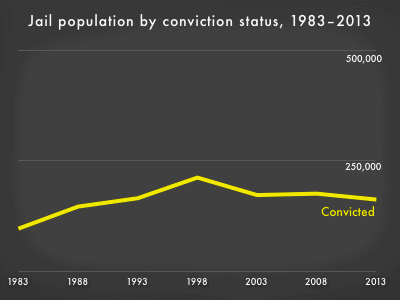 Jail growth has occurred predominately — and in the last 15 years, almost entirely8— in the number of people being detained pre-trial. This is a population that is considered innocent under the law, for whom detention was historically restricted to those who posed a genuine risk of flight or whose freedom was an actual threat to public safety. Many things have changed over the last three decades. Changes to police strategy mean that interactions with the police are more likely to result in arrest9, and the increased reliance on money bail10 means that the courts have imposed a wealth-based test on freedom.
Pre-trial policies have a warehouse effect
Looking at jail policy at the state level is especially important because, while local officials are the primary decision-makers, state lawmakers set the rules by which those decisions are made. The charging practices of county prosecutors and the bail decisions of local judges can be impacted by whether or not a state collects data on prosecutorial discretion or regulates the bail industry. The inaction of state lawmakers has allowed certain local officials to churn millions of people through the entire criminal justice system. As a result, today, local jails are filled with people who are legally innocent, marginalized, and overwhelmingly poor.
The explosion of jail populations is the end result of a broader set of policies that have treated the criminal justice system as the default response to all kinds of social problems that the police and jails are ill-equipped to address. After decades of bad policy choices, it should be no surprise that jails are disproportionately filled with already-marginalized groups:
This confinement creates problems for individuals on a short-term basis and also has long-term effects. Research in different jurisdictions has found people detained prior to trial, compared to similarly situated peers who are not detained, are:
And these harms accrue quickly: being detained pre-trial for just 3 days can impact employment19, finances20, housing21, and the well-being of dependent children.22 In fact, studies have found that just 3 days of detention can make the lowest-risk defendants less likely to appear in court23 and more likely to commit new crimes.24 There is no question that wholesale pre-trial detention does far more harm than good.
Each of these individual harms can accumulate into community-wide harms when large numbers of individuals in the same community have the same experience. The hyper-incarceration of Black, Latino and other marginalized communities imposes subsequent challenges to success that other communities do not face.25 To be fair, these outcomes may not have been the intent of each state's criminal laws, and these policies surely predate virtually every current elected official in the nation. But now that the pattern has been clearly identified, it is incumbent upon elected officials to change course. To do any less sends a clear signal that they approve of not only the current approach taken by jails in their state but the full course of negative outcomes that those policies create.
Renting jail space: a perverse incentive that fuels jail overgrowth
In more than half of U.S. states, there is another issue that makes talking about jails, and changing jail priorities, difficult. In those states, 10% or more of the people in jail are not "traditional jail inmates"26 at all, but people being held under contract for federal or state agencies. This both skews the data and gives local jail officials a powerful incentive to endorse policies that contribute to unnecessary jail expansion.
Some sharing of jail capacity can be about efficiency. If one county's jail is occasionally full, borrowing space from a neighboring county is far superior to building a larger jail that will be empty almost all of the time. But the systematic renting of jail cells to other jurisdictions — and building ever-larger facilities in order to cash in on that market27— changes the priorities and the policies of jail officials.
Contracts with federal and state authorities allow local sheriffs to generate revenue from jails that are rarely filled with "traditional jail inmates." Local officials can pad their law enforcement budgets by renting space to other authorities. This practice leaves sheriffs with little incentive to welcome or implement reforms.
This phenomenon is most visible in Louisiana, where the state has largely outsourced the construction and operation of state prisons to individual parish sheriffs. Just over half (52%) of the state's prison population is housed under contract with local jails; and as a result two-thirds (67%) of the people held in Louisiana jails are not "traditional jail inmates." Unlike other states, Louisiana's jail building boom appears to have been entirely fueled by the pursuit of contracts with the state's prison system.28
Louisiana parishes have, as a group, managed to refrain from growing their jail population. Unfortunately, should the state stop renting large amounts of jail space, Louisiana sheriffs would have the infrastructure in place to incarcerate tens of thousands more people. By allowing local officials to construct bigger facilities it opens the door for further growth in the traditional jail population. Any regressive future arrest, bail, or jail sentencing policies in Louisiana could mean that these facilities stay full.
Louisiana is extreme but not unique. Large portions of the jail population in Mississippi and Tennessee are people held for state authorities. Another major consumer of local jail cells is the federal government, starting with the U.S. Marshals Service that rents about 26,200 cells each year, mostly to hold federal pre-trial detainees in locations where there is no federal detention center. Immigration and Customs Enforcement also rents about 15,700 cells each year for people facing deportation—a number that new immigration policies may soon increase. There is wide variation in the amount of space rented to federal agencies: states have different levels of "excess" jail capacity and federal officials have specific needs in different parts of the country.
Federal & State
State
U.S. Marshals
ICE
The systematic use of jails to house people for other agencies frustrates reform in other, more subtle ways by obscuring some of the basic policy metrics about jails. For example, figure 4 shows states like Louisiana and Kentucky as having relatively small pre-trial populations, which implies that those states have particularly enlightened bail policies. The more likely scenario is that the entire picture of those state's jail population is distorted by the jail's side businesses with state or federal agencies. There is no question that bail reform should be a priority in Louisiana, but the extent of that need is obscured by how the existing data is collected. Reform-minded state officials must address the two drivers of jail growth: misguided pre-trial policies and the financial incentives of state and federal contracts.
Recommendations
Local and state policies send people to jail almost 11 million times every year, but jails are largely off the public's radar. If policymakers and state advocates want criminal justice reform they need to pay attention to jails, and we have ten recommendations for how they can break the cycle of using jails as catch-all responses to problems that disproportionately impact marginalized communities and people who are poor:
Change offenses and how offenses are treated
States should reclassify criminal offenses and turn misdemeanor charges that don't threaten public safety into non-jailable infractions.29
For other offenses, states should create a presumption of citation, in lieu of arrests, for certain low-level crimes.30
Help people successfully navigate the criminal justice system to more positive outcomes
States should immediately set up pilot projects to test promising programs that facilitate successful navigation of the criminal justice system. Community-based pretrial education programs, court notification systems, and other "wrap-around" pretrial services often increase court compliance while also reducing recidivism.33
Change policies that criminalize poverty or that create financial incentives for unnecessarily punitive policies
States should encourage judges to use non-monetary sanctions, rather than fines and fees; and states should ensure that judges are holding indigency hearings before imposing and enforcing unaffordable fees.34
States should ban for-profit probation and publish court-level data on probation fees.35
States should eliminate the two-track system of justice by abolishing money bail. States unwilling to take that step should abolish the for-profit bail industry in their state, and provide technical resources to existing local-level bail alternative programs to help these programs self-evaluate and improve state-level knowledge.36
Monitor how local discretion has statewide effects
States should actively monitor how local prosecutorial decisions impact state-level prison populations and also require prosecutors to collect and publish aggregate data on bail decisions, charging decisions, and other measures to allow analysis of whether prosecutorial discretion is magnifying racial disparities or increasing the state's prison population.37
Explore ways to advance justice by clearing court backlogs
States struggling with particularly backlogged courts should create a procedure to dismiss old, minor criminal cases.38
Address the troubling trend of renting jail space
States — particularly Alabama, Kansas, Kentucky, Louisiana, Mississippi, New Jersey, New Mexico, North Dakota, Tennessee, and Utah — should evaluate whether the renting of local jail space to state and federal authorities is steering local officials away from effectively addressing local needs.39
State graphs
The graphs made for this briefing are included in our profiles for each state:
and are available individually from this list:
Methodology
Jails are, by definition, a distributed mess of "systems" so getting the data is hard. Jails often hold people for other (state and federal) agencies, and at times the numbers can be large enough to obscure the results of state and local level policy changes, so this report takes the time to separate out people held in jails for state prison systems or federal agencies, such as Immigration and Customs Enforcement, the Bureau of Prisons, the U.S. Marshals Service, and the Bureau of Indian Affairs.
Our national data comes from our own analysis of the Bureau of Justice Statistics datasets National Jail Census Series and the Annual Survey of Jails that, taken together, provide the most complete annual snapshot of jail populations. Our state-level data is from the National Jail Census for the years 1983, 1988, 1993, and 1999 and the Deaths in Custody Reporting Series for the years 2000-2013. (We considered using the Annual Survey of Jails for our state-level data, but the Bureau of Justice Statistics explains that this dataset was "designed to produce only national estimates"40 and after much testing we concluded that this dataset could not reliably be used for state-level summaries.)
Jails — or facilities that serve the functions of jails — operate in all states, but in 6 states (Alaska, Connecticut, Delaware, Hawaii, Rhode Island, and Vermont) most or all of the jail system is integrated into the state prison system, so the "jail" populations in those states are not reflected in the federal data products on which this report relies.41 For that reason, we are unable to report state-specific data for those states, and except for a small number of people held in locally operated Alaska jails, those states are not included in the national totals reported in this report. Because these six states are relatively small states, we do not think their exclusion meaningfully impacts the national totals nor the much more important analysis of the trends within the national totals.
Many of our data sources are labeled on the individual graphics, but in some cases we had to combine multiple datasets or perform complicated adjustments where additional detail would be helpful to other researchers and advocates:
National data:
State data:
Our jail trends comparisons (figures 2-8) are based on the National Jail Census Series, and figures 5 and 6 in our slideshow also use data from the Prisoners Series. Our state-specific, over time, data on prisons, jails and the changes in jail composition pull from several different data sources:
For the six states where the federal government can not provide jail counts or conviction status data, we updated only the state prison portions of the graphs.
Appendices
About the Prison Policy Initiative
The non-profit non-partisan Prison Policy Initiative was founded in 2001 to expose the broader harm of mass criminalization and spark advocacy campaigns to create a more just society. The organization is most well-known for its big-picture publication Mass Incarceration: The Whole Pie that helps the public more fully engage in criminal justice reform. This report builds upon the organization's 2016 analysis of the cycle of poverty and jail incarceration, Detaining the Poor.
About the author
Joshua Aiken is the Policy Fellow at the Prison Policy Initiative. Joshua produced the national report Reinstating Common Sense that documented nearly 200,000 driver's licenses suspended annually for non-driving drug offenses. Joshua also curates the Research Clearinghouse, a database of empirical research on criminal justice issues.
Acknowledgements
This report was made possible by the generous support of the John D. and Catherine T. MacArthur Foundation's Safety and Justice Challenge, the Public Welfare Foundation, and our individual donors. The MacArthur Foundation's Safety and Justice Challenge is an initiative to reduce over-incarceration by changing the way America thinks about and uses jails. The initiative—an initial five-year, $100 million investment by the John D. and Catherine T. MacArthur Foundation—features a competition to help jurisdictions across the country create fairer, more effective local justice systems.
The author wishes to thank his Prison Policy Initiative colleagues Peter Wagner, Aleks Kajstura, Bernadette Rabuy, Wendy Sawyer, and Lucius Couloute for their feedback and assistance in the drafting of this report and John Boston, Nora Demleitner, Alex Friedmann, Deborah Golden, Jacob Kang-Brown, Bruce Reilly, Sarah Schirmer, Margo Schlanger and Carl Takei for sharing their expertise with particular aspects of jail, sentencing and criminal justice data systems.